Warning: This product is not currently available at any store.
Click the button above and PricePlow will email you when the first store has it in stock!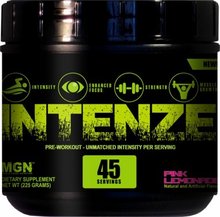 Muscle Gauge Nutrition Intenze
Swipe left/right to reveal product information
Unmatched Intensity
DMAA Free Pre-Workout Formula
Less Than Half the Caffeine of Leading Brands
Free of Aspartame & Acesulfame Potassium
Proprietary Blend of Ergogenic Acids
Muscle Gauge Nutrition introduces Intenze, the safest, most effective, pre-workout alternative to DMAA (1,3-dimethylamylamine) based products. MGN Intenze delivers the most intensely concentrated formulation designed to provide unparalleled mental focus and energy to power your workouts. This novel product provides a carefully researched proprietary blend of ergogenic aids, central nervous system (CNS) stimulants, with targeted doses of muscle building amino acids. At a serving size of only 5 grams, Intenze is designed to quickly deliver a boost of focused energy in a great tasting formula free of aspartame, acesulfame potassium, and only half the caffeine content of top selling concentrated pre-workout formulas on the market.*
MGN's Intenze Is All the Rage!
Intenze provides the safest, most effective formulation specifically engineered to deliver superior physical-and-mental-performance- enhancing effects, significant adrenal support after or during (strong) stimulant use, as well as powerful overall stimulation of adrenal- adaptogenic function, improved focus and concentration, and improved stress resistance for more effective workouts.*
The Science Behind Intenze
CNS Stimulants
Pre-workout supplements make it possible to accelerate muscle growth and enhance the gains of strength training by enabling a sustainable increase in energy, endurance, focus, and pump. Intenze delivers a concentrated amount of CNS stimulants that provide a safe yet effective dose using methylated xanthines. Stimulants naturally derived from xanthines include caffeine, theobromine, theophylline, and paraxanthine [1]. At targeted levels, xanthines actually counter the effects of the sleep inducing receptor adenosine. The distinguishing blend of stimulants enables a prolonged energy boost without the negative impacts of excessive caffeine such as jitters and sleeplessness.
Phenylethylamine HCL
(PEA) is an organic compound well known for its stimulant effects. Phenylethylamine hydrochloride increases dopamine levels and simultaneously inhibits the action of dopamine transmitters. This allows dopamine to accumulate in the brain which affects cognition, focus, mood, and even motivation. Interestingly enough, PEA is naturally found in chocolates which can raise dopamine levels inside the brain. This powerful ingredient enables an extremely powerful supplement blend that delivers the utmost mental clarity and focus beyond that of a product primarily focused solely on caffeine derivatives.
Beta Alanine
This concentrated formulation contains the most powerful combination of ergogenic aids proven to enhance energy production, recovery and while providing athletes a competitive advantage. Surveys have shown that 50 percent of the general population [2], 76 percent of college athletes, and 100 percent of body builders take supplements [3]. One such ingredient is beta alanine which decreases fatigue while increasing training capacity. In a study among male college football athletes during training camp it was found that the group supplementing with beta alanine prior to working out experienced less subjective fatigue and were able to perform more reps on resistance training exercises than the placebo group [4].
L-Citrulline dl Malate
This concentrated formulation utilizes advanced science by integrating L-Citrulline dl Malate, an amino acid that is converted to L-Arginine. L- Arginine is a precursor for nitric oxide production which improves the flow of nutrients to the muscles (such as creatine and amino acids) by increasing blood flow. This ingredient provides an increase in muscle pump and maximizes the benefit of resistance training to support muscle growth.
Creatine
Creatine Monohydrate safely provides an additional boost that is essential for pre-workout nutrition as discovered by Harvard scientists that ingesting creatine boosts the creatine content of muscles [5]. Phosphocreatine (PCr) is a major component of biological buffering, a critical element when muscles are exposed to high intensity exercise. Supplementation of creatine stores results in greater pre-exercise PCr availability which improves muscle buffering capacity and accelerates PCr resynthesis during recovery [6]. Creatine was also found to significantly improve performance during cognitive and memory based tests.
Schisandra Root Extract
Functioning as an adaptogen, Schisandra helps the body adapt to physical and mental stress by improving dexterity, focus and co-ordination. Schisandra chinensis bail. (Fructus Schizandrae) is an important herb with a well-established recognition and considerable importance in Russian medicine, as well as a long history of use in classical Chinese medicine. Stress is known to be associated with multiple undesirable downstream effects that include compromised physical and mental performance, insomnia, anxiety, neurosis [7], weakened immune and central nervous system functions. Schisandra has been shown in acute stress conditions in animal models to induce improved behavioral and biochemical markers of stress, including reduced anxiety, reduced expression of pro-inflammatory cytokines, decreased levels of circulating corticosterone, as well as a general enhancement in physical and mental performance. [8]
Frequently Asked Questions (FAQ's)
Q: Should I take a pre-workout on non-training days?
Although you could if you wanted to for a little energy boost, there wouldn't really be much point in doing this. They are designed to be taken immediately prior to your exercise, so you could just be wasting the money you spent on it.
Q: Should I eat something when taking my pre-workout supplement?
To experience the full effects of this product, it is recommended to take on an empty stomach. While you can eat before a workout, it may diminish the effects you'll feel compared to on an empty stomach. It is recommended to wait a minimum of 1.5 hours after eating your last meal before taking Intenze.
Q: Can this product be taken if I train in the evening?
You certainly can still use a pre-workout, but be aware of the amount of caffeine you're specific supplement contains per serving. If you are working out in the early evening, around 5-6 pm, you should be fine ingesting 150mg mg of caffeine. But if you're taking more than that (one scoop contains 150mg), >200mg +, you may have trouble falling asleep that night. Please be aware of your own sensitivity to stimulants. It is not recommended to take this product within 4 hours of going to bed.
Q: Is this product recommended for women?
Yes women can benefit from the increased energy, mental focus, and clarity of INTENZE on training days.
Q: How do I use this product?
Use on training days only as a dietary supplement, take 1 scoop with ~6oz of cold water 15 minutes prior to training. Shake/mix well. Start by taking one scoop to assess tolerance and increase dosage slowly. Some individuals may find 1-2 scoops is the ideal serving size. Due to the potency of this product, it is highly recommended to assess tolerance before consuming the full dose especially if you are sensitive to stimulants.
References
Spiller, Gene A. (1998). Caffeine. Boca Raton: CRC Press. ISBN 0-8493-2647-8.
Sobal J, Marquart LF. Vitamin/mineral supplement use among athletes: a review of the literature. Int J Sports Nutr. 1994;4:320–34.
Nesheim MC. What is the research base for use of dietary supplements? Public Health Nutr. 1999;2:35–8.
Hoffman JR, et al. (2008). Short-duration beta-alanine supplementation increases training volume and reduces subjective feelings of fatigue in college football players. Nutrition Research (New York, N.Y.). 28(1), 31-5.
Folin, Otto; Denis, W (1912). "Protein metabolism from the standpoint of blood and tissue analysis". Journal of Biological Chemistry 12 (1): 141–61.
Birch R, Noble D, Greenhaff PL:The influence of dietary creatine supplementation on performance during repeated bouts of maximal isokinetic cycling in man. European journal of applied physiology and occupational physiology 1994, 69(3):268-276.
Gold, P.W. and Chrousos, G.P. (2002). Organisation of the stress system and its dysregulation in melancholic and atypical depression: high vs low CRH/NE states. Mol Psychiatr. 7:254-275.
Lee, S., et al. (2007). Schizandra chinensis and Scutellaria baicalensis counter stress behaviors in mice. Phytotherapy Reaearch. DOI. 10.1002/ptr. 2233