Quick Links to Our Prices Price History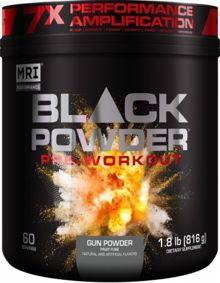 Enhance the effects of Black Powder with the MRI Pre/Post Workout Stack
Black Powder Featuring Actinos2
Black Powder is the first and only pre-training formula to employ the powerful NOS up-regulating whey "peptide fraction" Actinos2, delivered with MRI's "Instant Release" (IR) technology. You get the over-whelming advantage of an instant surge of more nitric oxide (N.O.'s upper limit), combined with potent pre-workout compounds - delivered in ratios measured to precise gram-molecular specification.*
Strength*
Intensity*
Stamina*
The Awe-Inspiring Black Powder Training Effect:
For you, "workout" isn't a code word for "social hour" – it is serious business. It's a time for introspect and focus. Each and every session is a test of sheer mental and physical fortitude. Each set is performed with the unbridled intensity needed to shatter yesterday's accomplishments.
MRI Black Powder Results
Black Powder is a convergence of MRI's patented technologies, delivered in a rapid absorption pre-workout formula. Black Powder will get you amped, quickly. But there are a lot of products that stimulate your central nervous system (like a cup of coffee). Black Powder goes way beyond that. Here's what to expect: It literally takes a few moments for Black Powder to get absorbed and get to work. Take it no more than 30 minutes before your workout. You can actually take it right before you walk into the gym and start your first set!*
The First 30 Minutes in the Gym
Warm up set? Sure go ahead. Because its good for you. But you are ready to pounce without it. Black Powder's neuromodulators (caffeine, betaine anhydrous, green tea extract) and ACTINOS2 IR get you supercharged from the get go. Mood elevated. Not manic. But steady and strong. Don't worry, the neuromodulation is balanced. No jitters, and ABSOLUTELY no blood glucose concerns.*
Next, you'll immediately notice that you recover rapidly between sets. That's the nitric oxide and creatine talking! Increased blood flow and nutrient delivery to you muscles give you the green light to attack the next set. ACTINOS2 IR's bombards your muscle cells with adaptive response signals that engage every fiber you have. It's go time!*
Your workout is well under way. And at a pace and intensity level that you've never experienced. Keep going!
The Second Half
Between set recoveries are still there. And you're still amped. Sure, fatigue sets in on each set, but you're taking it to failure and beyond. You see, Black Powder is formulated with beta alanine, potassium bicarbonate, and sodium bicarbonate for muscle stamina and endurance. Plus the sodium and potassium you lost/metabolized in the first 30 minutes is still in ample supply.*
And you feel strong. The muscle fiber has plenty of creatine at its disposal for power output and increased load capacity, with plenty of phosphates to feed your body's continual recycling of ATP. Plus you still have tons of energy (ACTINOS2 IR)! Black Powder is loaded with B vitamins and raw muscle fuel like MCTs and malic acid so your energy metabolism can stay efficient and steady longer.*
Recovery
No more walking off the gym floor like you just got hit by a bus. You're pumped, and your body is in balance. The arginine blend and the rapid absorption ester creatine take the lead in the repair process. Physically fatigued? Sure. But not depleted. And you still have the ability to focus. You have what you need to keep going, and do it all over again the next day. Thanks to Black Powder and ACTINOS2 IR.*