Quick Links to Our Prices
How does this work and how do stores get listed? See our disclosure below to learn more. Price History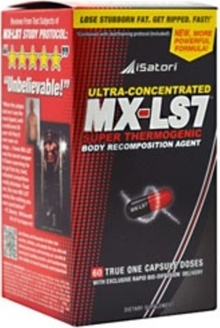 Swipe left/right to reveal product information
Ultra-Concentrated MX-LS7 v2 Super Thermogenic Body Recomposition Agent
Ultra-Concentrated MX-LS7 is a new, significantly stronger, concentrated version of our original high-performance fat burner that has helped over two million people lose weight and get ripped since we first introduced it in 2002. Our new, more powerful, state-of-the-art formula has been totally re-engineered with never-before-seen ingredients, which scientific studies have shown help destroy fat cells by converting resistant "stubborn" white cells into usable "dissolvable" brown cells—making fat cells literally self-destruct.*
And, once combined with our scientifically designed "GET RIPPED" plan (FREE with purchase) will help you significantly reduce bodyfat fast and reveal your hard-earned muscular definition.*
NEW, more powerful formula than the original!*
Lose stubborn fat. Get ripped. FAST!*
Reprogram fat into a metabolic grenade... forcing fat cells to literally self-destruct!*
Significantly elevate energy and mood!*
Control appetite!*
Questions & Answers
What's the difference between the "original" MX-LS7 and this new MX-LS7 version 2?
There are three primary differences in our new MX-LS7 v2 versus the original version… 1) it's a completely overhauled, totally reengineered formula that's stronger and more powerful at targeting stubborn bodyfat; 2) it's ultra-concentrated into a true one-capsule dose; 3) it contains three ingredients you've likely never seen before, including our exclusive and proprietary "geranium replacement," Red Dralion.*
What's inside new MX-LS7 v2 that makes it unique among fat burners?
All fat burners today are designed with "old school" ingredients that target the wrong fat (white cells). New MX-LS7 v2 is the first weight-loss agent designed to "reprogram" fat cells, forcing fat cells to literally "self-destruct" by converting resistant "stubborn" white cells into usable/"dissolvable" brown cells to completely and positively alter your body composition (bodyfat versus lean muscle).*
Does MX-LS7 v2 contain geranium (1,3-dimethyl)?
Though not considered unsafe, our new MX-LS7 v2 does not contain the controversial ingredient geranium nor its constituent, 1,3-dimethyl, but it does contain some ultra-potent thermogenic (i.e., fat-burning) ingredients you've likely never seen before... All three of which are exclusive to our proprietary formula, including: Hemodren (form of Hemerocallis), Brassical (form of Brassica), and Red Dralion(Sceletium) the "geranium replacement," to help strip away stubborn bodyfat, fast, inhibit the uptake of fat, radically influence energy and mood, and suppress your appetite, for total fat destruction.*
Is there any clinical evidence on the ingredients found in MX-LS7v2?
Absolutely. Clinical studies are the backbone of our product development, and we scoured the ends of the earth to uncover the latest in scientific evidence which supports our key ingredients in MX-LS7v2. For a full listing of the scientific studies that went into the research and development of our new super thermogenic, MX-LS7v2, scroll down to the bottom of this page, under "Scientific References." If you'd like to request an actual copy of any of these studies, please contact us at info@isatoritech.com.
Are there any "real-world" results from using your new MX-LS7v2?
Yes. Clinical trials are important but not enough. We know you also rely on real-world results, with real people (not paid endorsement athletes), and so do we to back our claims. As proof, Dewey Whitworth, even at the age of 52, was able to strip away stubborn bodyfat and get ripped and "competition-ready," using MX-LS7v2 as part of pilot testing program. If he can do it, so can you.
How is MX-LS7v2 able to start working so fast?
Like the original MX-LS7, our brand new MX-LS7v2 takes advantage of Rapid Bio-Diffusion Delivery Technology... So you can start feeling it work from the very first dose to maximize thermogenesis and eliminate unwanted bodyfat, fast.*
What type of nutrition and weight-training plan should I follow when taking MX-LS7v2 to really maximize its fat-burning effects?
For maximize results, we suggest you combine MX-LS7v2 with an exercise program that is intense and designed so you work out at least four to six days a week. Then follow a nutrition plan that provides plenty of protein yet manipulates your carbohydrates. To that end, a FREE nutrition plan (called the "Get Ripped Plan"), designed specifically to maximize MX-LS7v2, is included in every box.*
How should I use MX-LS7v2? When should I take this fat burner to maximize its effects?
Read the entire label carefully before using MX-LS7v2, and follow the directions. As a dietary supplement, begin by taking one capsule per day for the first three days, 30 minutes prior to morning meal. For maximum effectiveness, after day four, take a second capsule, six to eight hours later, 30 minutes prior to main meal. To avoid restlessness, do not take within four hours prior to sleep. Please read the entire label carefully before use and follow directions. Do not exceed more than three capsules per day.
If I want faster results, can I increase the serving size?
No. As in most cases, more is not always better. The key ingredients found in each serving of MX-LS7v2 have been carefully selected and scientifically validated to be extremely effective at burning stubborn bodyfat, fast, when following the recommended instructions for use. Keep in mind, MX-LS7v2 contains the latest ingredients known to science, in precise amounts, to help your body generate maximum thermogenic intensity, so you can achieve your ideal physique in record time. Especially when combined with disciplined nutrition and an intense exercise program (like our "Get Ripped" plan, contained with every purchase). As a result, there is no reason to consume more than the suggested dosage of MX-LS7v2. And, you should always consult your primary physician to ensure you are in good health, before using a dietary supplement, and follow the labeled directions.*
What kind of results can I expect from using MX-LS7v2?
MX-LS7v2 is very potent and works extremely fast at destorying stubburn fat. Although it's impossible to say exactly how much bodyfat each person will lose from using MX-LS7v2—obviously, as individuals differ, so will results—in a recent pilot study using the new MX-LS7v2, participants lost an average of 7 cm off their bellies while those using a placebo lost only 4 cm. In only four short weeks! (This is simply phenomenal!) But keep in mind, don't use this super thermogenic fat burner unless you are serious... serious about losing bodyfat, fast. And serious about your nutrition and exercise too.*
Can I take MX-LS7v2 with medications?
If you are using any prescription medication or over-the-counter drugs, we always suggest you consult your primary physician before using MX-LS7v2 or any other supplement for that matter. And always remember to read the entire label and warnings before use to ensure you follow the directions properly.
Scientific Review of Ingredients in MX-LS7 Ultra Concentrated
Each ultra-concentrated capsule of MX-LS7 v2 contains 709mg of powerful super thermogenic compounds, backed by solid clinical evidence.*
Phenylethylamine alkaloids:
Phenylethylamines includes beta-PEA, the active alkaloids in Advantra Z (p-Synephrine, octopamine, tyramine, etc.), as well as the active in ThermoRX. The alkaloids found in Citrus aurantium extract were shown to increase resting energy expenditure as well as temperature—a sign of thermogenesis, or the consumption of fatty tissue to produce energy (heat). C. aurantium extract can also stimulate an increase in metabolic rate, which is most likely due to its affect of thermogenic processes, either effecting uncoupling protein 1 (UCP-1) in the mitochondria of adipose tissue or Beta-3-Adrenergic receptor (ADRB3) of adipocytes. Through ADRB3 modulation phenylethylamines may increase catecholamine release and/or preserves the molecule decreasing its likelihood of degradation.*
Hemodren (Hemerocallis fulva):
Hemerocallis fulva helps to promote an increase in lipolysis (e.g., release of fat to be used for energy by the body). H. fulva appears to accomplish this through reducing catecholamine resistance in adipocytes. And helps to potentiate the effect of norepinephrine and catecholamine compounds stimulating lipolysis.*
Red Dralion (Sceletium tortuosum): "The Geranium (1,3-Dimethyl) Replacement"
S. tortuosum contains mesembrine type alkaloids. These alkaloids have been identified as a selective serotonin reuptake inhibitor, helping to prolong the "feel-good effect" of serotonin, thus helping to ease anxiety and alleviate depression. Additionally, the inhibition on phosphodiesterase 4 helps reduce fatigue by decreasing the inactivation of cAMP allowing for a source of supplementary energy.*
Brassical (Brassica campestris):
B. campestris can help reduce weight through limiting adipocyte lipid accumulation. It has been shown that B. campestris limits lipid accumulation by inducing lipolysis-related genes in white adipose tissue such as beta-adrenergic receptor, hormone sensitive lipase, and uncoupling protein-2. These help to inhibit the translocation of lipid molecules from the cytosol to the lipid droplet of adipocytes.*
Caffeine anhydrous:
Caffeine can help stimulate weight loss through thermogenesis and an increase in energy expenditure. It has been shown that caffeine stimulates an increase in UCP-1,-2, and -3 in adipose and skeletal muscle tissue. These mitochondria membrane proteins facilitate the transfer of protons across the mitochondria membranes disrupting membrane potential typically used for oxidative phosphorylation production of ATP instead to produce heat. Caffeine has been shown to increase metabolic rate in healthy, young male volunteers by ~7%.*
Advantra-Z (Citrus aurantium)
Citrus aurantium is commonly referred to as bitter orange, has been used for thousands of years in Traditional Chinese Medicine for improving and maintaining overall health. That is until recently, when science discovered compounds from the little orange fruits of Citrus aurantium, the most well-known, and tolerable being para-synephrine, demonstrated powerful thermogenic ("fat-burning") activity, without affecting the nervous system. Now, this herb is acclaimed as the "calmer chemical cousin" to ephedra because it increases the body's fat-burning mechanism—the metabolic rate—without producing the negative central nervous system and cardiovascular side effects.*
Evodiamine:
Evodiamine can help promote weight loss through several mechanisms. Evodiamine has been shown to inhibit adipogenesis through increasing phosphorylation of ERK/MAPK, reducing the amount of transcription factors necessary for adipocyte differentiation. Evodiamine has also been shown to reduce adipogenesis through the epidermal growth factor receptor (EGFR) and protein kinase C (PKCalpha) signaling pathways. And like capsaicin, the principle pungent molecule in hot peppers, evodiamine is an agonist of the vanilloid receptor and is capable of eliciting an increase in body temperature and energy expenditure.*
Sclareolide (Clary Sage)
Clary Sage is a fermented sage compound shown in unpublished in-vitro research to increase levels of a cellular messenger called cAMP (cyclic adenosine monophosphate). This is significant because in some metabolic processes, cAMP is involved in activating cellular enzymes and other substances that help move fat out of the fat cells and promote the weight-loss process.*
CapsiTherm (Cayenne Pepper):
Cayenne pepper is an excellent source of capsaicin, capsaicinoid, and capsinoid. These molecules have been shown to increase thermogenesis and energy expenditure through activation of the vanilloid receptor. The thermogenic effect of capsaicin can be evident when you eat spicy food containing hot chilies, you begin to sweat and feel your body start to warm up minutes after consuming the capsaicin.*
Bioperine
Bioperine is a patented standardized extract from the fruits of Piper nigrum L. (black pepper, a common household spice) or Piper longum L. (long pepper). It contains a minimum piperine content of 95% compared to the three to nine percent and three to five percent found in raw forms of Piper nigrum and Piper longum, respectively. Bioperine may be co-administered with various nutrients to assist in the uptake and use of those nutrients. Based on clinical data, having Bioperine in the digestive system with supplemented nutrients results in enhanced absorption. Studies show that when Bioperine is taken with other nutrients, it significantly increases the absorption of those nutrients.*
Xanthinol Nicotinate (XN)
XN is a form of niacin that passes through the cell membranes. It is the most effective form of niacin available. XN stimulates memory and concentration by improving blood flow to the brain and has been shown to increase brain glucose metabolism, improve brain ATP levels, and act as a vasodilator. (This explains its ability to improve brain blood flow.) XN (like niacin) can cause a flushing of the skin and a sense of warmth. It has consequently been suggested that XN can aid weight control through heat and water loss.*
Bacopin (Bacopa)
Bacopa is included for its cognitive-enhancing effects, specifically improvements in memory, learning, and concentration. Bacopa extracts also have a relaxant effect on chemically induced bronchoconstriction.*
Vinpocetine
Vinpocetine is a powerful antioxidant, and it also enhances the delivery of glucose to the brain. Glucose is the brain's primary fuel source, and without it, the brain will shut down. Not surprisingly, athletes who supplement with vincamine report significant improvement in visual acuity, memory, and focus. Vincamine supports the brain and improves its function. Athletes also report that vincamine is extremely thermogenic. It causes rapid losses in bodyfat by stimulating the release of the hormone norepinephin.*
MX-LS7 v2 Scientific References:
Stohs, S.J., Pruess, H.G., Shara, M., 2011. The safety of citrus aurantium (bitter orange) and its primary protoalkaloid p-synephrine. Phytoothers. Res. [Epub ahead of print].
Haa, S., Fontaine, K.R., Cutter, G., Limdi, N., Perumean-Chaney, S., Allison, D., 2006. Citrus Aurantium and synephrine alkaloids in the treatment of overweight and obese: an update. Obes. Rev. 7(1): 79-88.
Gougeon, R., Harrigan, K., Tremblay, J.F., Hedei, P., Lamarche, M., Morais, J.A., 2005. Increase in the thermogenic effect of food in women by adrenergic amines extracted from citrus aurantium. Obes Res. 13(7): 1187-94.
Pruess, H.G., DiFerdinado, D., Baqchi, M., Baqchi, D., 2002. Citrus aurantium as a thermogenic, weight reduction replacement for ephedra: an overview. J. Med. 33(1-4): 247-64.
Haller, C.A., Benowitz, N.L., Jacob, P 3rd., 2005. Hemodynamic effects of ephenrda free weightloss supplements in humans. Am J. Med. 118(9):998-1003.
Hursel, R., Westerterp-Plantaga, M.S., 2010. Thermogenic ingredients and body weight regulation. Int. J. Obes. (Lond.) 34(4): 659-69.
Kogure, A., Sakane, N., Takakura, Y., Umekama, T., Yoshioka, K., Nishino, H., Yamamoto, T., Kawada, T., Yoshikawa, T., Yoshido, T., 2002. Effects of caffeine on the uncoupling protein family in obese yellow KK Mice. Clin. Exp. Pharmacol. Physiol. 29(5-6): 391-4.
Arcíero, P.J., Bougopoulos, C.L., Nindalle, B.C., Benowitz, N.L., 2000.Influence of age on the thermic response to caffeine in women. Metabolism. 49(1): 101-7.
Koot, P., Duerenberg, P., 1995. Comparison of changes in energy expenditure and body temperatures after caffeine consumption. Ann. Nutr. Metab. 39(3): 135-42.
Yoshioka, K., Yoshida, T., Kamanaru, K., Hiraoka, N., Kondo, M., 1990. Caffeine activates brown adipose tissue thermogenesis and metabolic rate in mice. J Nutr. Sci. Vitaminol. (Tokyo). 3692):173-8.
Dulloo, A.G., Geissler, C.A., Horton, T., Collins, A., Miller, D.S., 1989. Normal caffeine consumption: Influences on thermogenesis and daily energy expenditure in lean and postobese human volunteers.
Bour, S., Visentein, V., Prévot, D., Carpéné, C., 2003. Moderate weight-lowering effects of octopamine treatment in obese zucker rats. J. Physiol. Biochem. 59(3): 175-82.
Visentein, V., Morin, N., Fontana, E., Prévot, D., Boucher, J., Castan, I., Valet, P., Grujiu, D., Carpéné, C., 2001. Dual action of octopamine on glucose transport into adipocytes: Inhibition via beta-3-adrenoceptor activation and stimulation via oxidation by amine oxidases. J. Pharmacol. Exp. Ther. 299(1): 96-104.
Mori, S., Takizawa, M., Satou, M., Sakasai, M., Kusuoko., H., Nojiri, H., Yoshizuka, N., Hotta, M., Kitahara, T., Hase, T., Takema, Y., Saito, M., Yada, T., 2009. Enhancement of lipolytic responsiveness of adipocytes by novel plant extract in rat. Exp. Biol. Med. (Maywood). 234 (12): 1445-9.
Kobayashi, Y., Nakano, Y., Kizaki, M., Hoshikawa, K., Yokoo, Y., Kamiya, T., 2001. Capsaicin-like anti-obese activities of evodiamine from fruits of evodia rutaecarpa, a vanilloid receptor agonist. Plant Med. 67(7): 628-33.
Wang, T., Wang, Y., Yamashita, H., 2009. Evodiamine inhibits adipogenesis via the EGFR-PKC alpha-ERK signaling pathway. FEBS Lett. 583(22): 3655-9.
Bak, E.J., Park, H.G., Kim, J.M., Kim, J.M., Yoo, Y.J., Cha, J.H., 2010. Inhibitory effect of evodiamine alone and in combination with rosiglitazone on invitro adipocyte differentiation and in vivo obesity related to diabetes. Int. J. Obes. (London). 34(2):250-60.
Wang, T., Wang, Y., Kontani, Y., Kobayashi, Y., Sato, Y., Mori, N., Yamashita, H., 2008. Evodiamine improves diet-induced obesity in a uncoupling protein-1 dependent manner; Involvement of antiadipogenic mechanisms and extraordinarily regulated kinase/mitogen-activated protein kinase signaling. Endocrinology. 149(1): 358-66.
Tsai, T.H., Lee., T. F., Chen, C.F., Wang, L.C., 1995. Thermoregulatory effects of alkaloids isolated from wu-chu-yu in afebrile and febrile rats. Pharmacol. Biochem. Behav. 50(2): 293-8.
Pearce, L.V., Petukhov, P.A., Szabo, T., Kedei, N., Bizik, F., Kozikowski, A.P., Blumberg, P.M., 2004. Evodiamine functions as a agonist for the vanilloid receptor TRPV1. Org Biomol. Chem. 2(16): 2281-6.
Snitker, S., Fujishima, Y., Shen, H., Ott, S., Pi-Sunyer, X., Furuhata, Y., Sato, H., Takahashi, M., 2009. Effects of capsinoid treatment on fatness and energy metabolism in humans: Possible pharmagogenetics implications. Am. J., Clin. Nutr. 89(1): 45-50.
Leung, F.W., 2008. Capsaicin-sensitive intestinal mucosal afferent mechanism and body fat distribution. Life Sci. 83(1-2): 1-5.
Lejeune, M.P., Kovacs, E.M., Westertep-Plantenga, M.S., 2003., Effects of capsaicin on substrate oxidation and weight maintenance after modest body-weight loss in human subjects. Br. J. Nutr. 90(3): 651-59.
An, S., Han, J.I., Kim, M.J., Park, J.S., Han, J.M., Baek, N. I., Chung, H.G., Choi, M.S., Lee, K.T., Jeong, T.S., 2010. Ethanolic extracts of brassica campestris ssp. Rapa root prevent high-fat diet-induced obesity via beta(3)-adrenergic regulation of white adipocyte lipolytic activity. J. Med. Food. 13(2): 406-14.