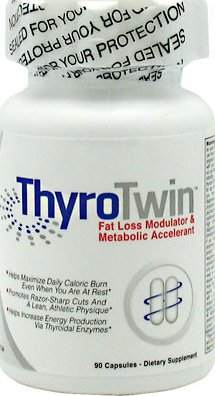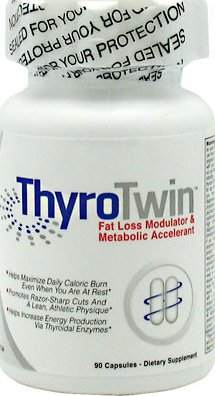 ThyroTwin is a non-stimulant thyroid booster designed to suppress your appetite and keep your metabolism elevated throughout the day.
It will help to burn fat on its own, but can be stacked with Giant Sports' Dexamine to provide a weight reduction formula that covers all your bases: enhanced metabolism, mobilization of fat for use as energy, appetite suppression, energy and motivation to power through workouts.
Disclaimer - The Dexamine/ThyroTwin Stack is Beyond Legit!
Before we begin, let us say this:
This is an advanced supplement. It works at the thyroid level, so we do urge you to get your thyroid levels checked with a doctor before starting any new supplement program.


This product, when combined with Dexamine, is by far the most incredible appetite suppressant we have ever tried. Seriously!

If you're going to begin using it, have your diet in check and ready to go, because you might literally forget to eat - and you do need to eat your healthy foods with quality proteins and vegetables, regardless of goals.
---
Ingredients
ThyroTwin is a very simple supplement. Aside from the usual gelatin, magnesium stearate, and rice flour used to fill out caplets, there's only two active ingredients — or rather, two variants of one active ingredient.
Primary ingredients
The label lists two primary components: 3,5-diiodo-L-thyronine (at 175mcg per dose), and 3,3'-diiodo-L-thyronine (at 25mcg per dose). These are both variants of a hormone called triiodothyronine, a commonly found chemical in the body that plays a role in nearly all physiological functions.
Effectiveness
The value as a fat-reduction supplement comes from ThyroTwin's ability to stimulate the thyroid gland to accelerate metabolism for sustained periods. The science behind this is a bit limited at this point — these two specific ingredients were highly effective in a pair of rat studies, but human studies have yet to be completed.[1,2]
For workouts... also try stacking ThyroTwin with Giant Sports' pre workout supplement, Metabolic BioShock.
Anecdotal reports and individual reviews have been largely positive so far. The Dexamine-ThyroTwin stack is quickly becoming a favorite around here thanks to consistent results and the company's open-label policy. ThyroTwin can also be stacked with a range of other fat-burning supplements, including those containing stimulants. For a workout mindset, you can also try stacking ThyroTwin with Giant Sports' pre workout supplement, Metabolic BioShock.
Why have I never seen these ingredients?
There's a reason why you're not seeing these thyroid metabolites in other thyroid boosters — because they are incredibly difficult to create. As in, out-of-this-world expensive. In fact, Giant Sports it the only company in the US with the capability to get them in their pure form.
Note that just because Giant Sports is a new company does not mean that they're new to the game. These are the guys who were behind much of Gaspari Nutrition's success. They know their nutraceutical science, and with this product, it shows.
---
Directions for use
When starting out, take one capsule in the morning on an empty stomach, with about two glasses of water. If you don't notice an increase in fat reduction after seven days, increase the dosage to two capsules in the morning.
You should never exceed two capsules per day, and do not use the ThyroTwin for more than six consecutive weeks (take a four week break before resuming use).
---
Where to buy
ThyroTwin is available right here at PricePlow. It's easy to compare prices, receive sales and price-drop notifications, and get the best possible deal for your money.
We're serious about this stuff!!
---
Additional Research
Giant sports was kind enough to provide even more research on the subject. Granted, some of it is mice-based, and some of it is human-based, but it's here if you need it:
www.PricePlow.com/giant-sports/thyrotwin/research
Long story short, there's a ton of new research showing the effectiveness of these "dioodo's," as they're called. And we won't be surprised to see big pharma stealing these ingredients back. You will be hearing more about these ingredients - be the first to use them for your weight loss and appetite suppression.
---