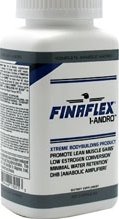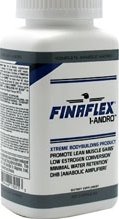 FINAFLEX 1-Andro is the most pivotal advancement in lean muscle acquisition ever introduced. FINAFLEX 1-Andro brings to market the most sought after and exotic legal bodybuilding ingredient available today. Combining FINAFLEX 1-Andro with an anabolic amplifier [DHB] makes the active ingredient more bio-available, creating an extreme anabolic environment in the body.
1-Test compounds, otherwise known as "delta-ones", include products like the original 1-AD (1-androstenedione and 1-androstenediol) which offered users impressive gains in body weight and strength. Unfortunately these "delta-one" compounds are no longer available...until now.
FINAFLEX 1-Andro competes milligram per milligram with the "delta-one" direct precursors. FINAFLEX 1-Andro is a two-step precursor and generally speaking two step precursors are substantially inferior to one step precursors. However the unique chemical structure makes them much less susceptible to phase II metabolism, so the vast majority administered has but two places to go…either to 1-androstenediol or 1 androstenedione.