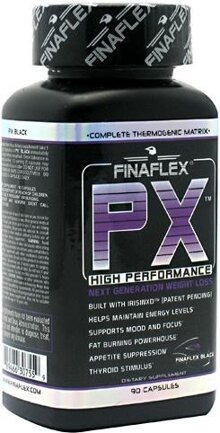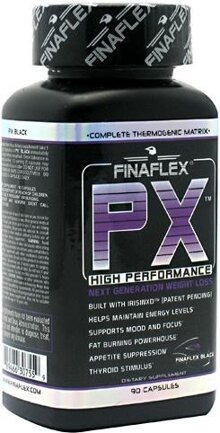 Next Generation Weight Loss!
Built with IrisinXD (Patent Pending)
Helps Maintain Energy Levels
Supports Mood and Focus
Fat Burning PowerHouse
Appetite Suppression
Thyroid Stimulus
FINAFLEX PX BLACK has been designed to do one thing... BLAST FAT ALL DAY LONG! Formulated with innovative weight loss ingredients, PX BLACK works to engage the body into a state of extreme thermogenesis and lipolysis, attacking fat at its source. Use PX BLACK in conjunction with FINAFLEX ALC+CLA to further annihilate unwanted body fat.

Supplement Facts:

Serving Size: 2 Capsules
Servings Per Container: 45

Amount Per Serving
Antioxidant Energy Amplification 804 mg
1,3,7-trimethylxanthine (caffeine), naringin, hesperidin, sulbutiamine, b-phenethylamine HCl, theobromine, r-methyl-b-phenethylamine HCl, hordenine HCl, yohimbine HCl.
Thyroid Stimulus 300 mcg
3,5 diiodo-L-thyronine
Fat Burning Matrix 345 mg
Ligustrum lucidum ait (99% oleanolic acid), IRISINXD (green tea extract [standardized for EGCG], n-coumaroyldopamine), advantra Z (citrus aurantium extract powder 50%)

Ingredients: Gelatin, Silica, Magnesium Stearate, Stearate Acid, Titanium Dioxide, FD&C Blue #1, FD&C Red #3.

Directions: As a dietary supplement take 1 serving (2 capsules) of PX Black immediately upon rising before breakfast. Once tolerance is assessed another 1/2 serving (1 capsule) may be consumed 6-8 hours later. Do not use for more than 60 days consecutively. Do not exceed 4 capsules daily.

Warnings: Keep out of reach of children. Do not use if pregnant or nursing. Consult your doctor prior to use if you have or are at risk for prostate disease, heart disease, or any other general medical condition. Consult your doctor prior to use if you are taking any other medications. All persons are advised to consult with their doctor or other medical authority before use of this or any other dietary supplement. Avoid excessive caffeine and intake of other stimulants while using this product. Discuss possible interactions and contradictions of this dietary supplement with other medicines currently prescribed by your doctor. Do not use this product in extreme heat conditions. Discontinue use 2 weeks prior to surgery. Do not use if your health status is unknown. Do not this product 5 hours prior to bedtime. Athletes or other persons who are subject to testing for performance enhancing drugs may test positive when using dietary supplements. All persons are advised to contact their drug testing organization prior to use of this or any other dietary supplement. May not be suitable for persons under the age of 18 years old.
Note: Manufacturers continually change product specifications. While we try our best to keep product descriptions up to date, they do not necessarily reflect the latest information available from the manufacturer. We are not responsible for incorrect or outdated product descriptions and/or images.

These statements have not been evaluated by the Food and Drug Administration. This product is not intended to diagnose, treat, cure, or prevent any disease.