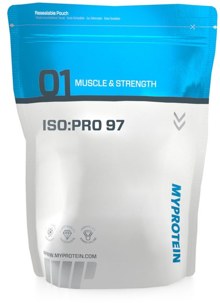 Myprotein Iso:Pro Whey Protein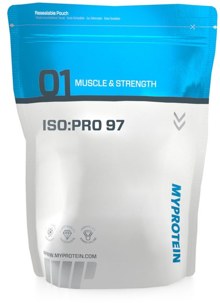 Myprotein Iso:Pro Whey Protein
Iso:Pro is Myprotein's premium whey protein isolate. With 97% protein content, zero sugar and only 0.4g fat per serving, Iso:Pro is the perfect answer to anyone looking to add lean mass to their frame. Iso:Pro also delivers an exceptional amino acid profile, offering a phenomenal 7.6g of BCAAs per 95 calorie serving.
Iso:Pro' exceptionally high protein content is the premium answer for anyone looking to build, maintain and repair lean muscle tissue. With a delicious range of flavors, it has never been so easy to ensure your muscles are fed with a stream of amino acids.
Iso:Pro can be consumed at any point in the day to deliver a premium source of protein to the muscle tissue. Iso:Pro mixes excellently with water or milk. 
Please note that the labelling on this product is provided in English as a minimum. French, Italian, German, Spanish, Danish, Swedish and Finnish may also be present on a product by product basis.
*not a reduced calorie food