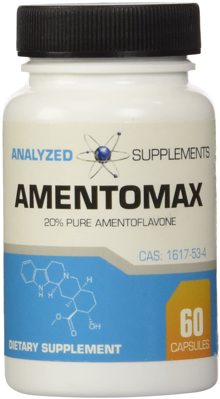 Analyzed Supplements AmentoMax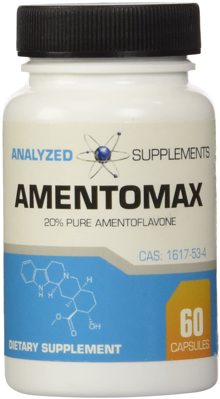 Analyzed Supplements AmentoMax
Analyzed Supplements Amentomax
Analyzed Supplements Amentomax introduces Amentoflavone with which preliminary data suggests a multitude of uses for bodybuilders, athletes, and dieters. Amentoflavone possesses the highly unique ability to increase calcium release in vitro, unlike caffeine Amentoflavone is 20 times stronger at increasing muscle calcium than caffeine in vitro. The final trigger in muscle contraction is an increase in calcium in the muscle cell. The calcium binds to key muscle proteins that result in contraction, and it has been shown that the more calcium released into the muscle cell, the stronger the contraction.
---
Directions
Take two (2) capsules daily.
---
Supplement Facts
Serving Size: 1 Capsule
Servings Per Container:
60Amount Per Serving
Selaginella Tamariscina (whole plant) Extract (20% Amentoflavone)200 mg
*percent Daily Values are based on a 2,000 calorie diet.
Other Ingredients: Cellulose, Gelatin, Magnesium Stearate, Silicone Dioxide