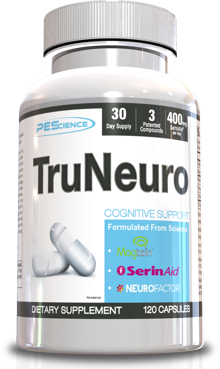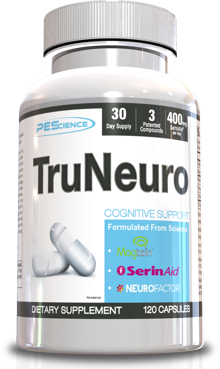 Product Description
TruNeuro
Three Premium Cognitive Support Ingredients:
400mg SerinAid Phosphatidylserine
100mg NeuroFactor Coffeeberry Extract
2000mg Magtein Magneisum-L-Threonate
Magnesium for the Brain
When it comes to brain health, Magtein is pioneering the industry. They have found one of the newest breakthroughs in supplement brain support ingredients, and the research they have done/are doing is next-level. They are following the same research steps that you commonly see only in the pharmaceutical industry.
Recently discovered by a group of MIT researchers, magnesium-l-threonate (Magtein) is the first form of magnesium that has significant bioavailability in the brain, with no gastrointestinal discomfort. Magnesium has been implicated in many of the brain functions including learning abilities, working memory, and both short- and long-term memory. Prior to the discover of Magtein, increasing brain magnesium levels has always been a challenge.
In an impressive effort to research the products potential effectiveness, Magtein has already published 3 animal-model studies, and has recently completed its first human safety and efficacy study (awaiting publication). The animal model studies have shown impressive results:
Published in Neuron, one of the top-three scientific neurology journals in the world, Magtein was shown to uniquely increase brain magnesium levels and improve brain function in animals. This article was published in January 2010 by a group of scientists at MIT, including a Nobel Prize Laureate. They showed that by increasing the brain's magnesium level, Magtein could increase learning ability, working memory, and short- and long-term memory in young and aged animals.
---
SerinAid Phosphatidylserine
In a full day of TruNeuro you will receive 400mg of active phosphatidylserine. This is not an amount you will find in many, if any cognitive support products. We decided that if we were going to make a brain health supplement, we were going to do it right regardless of cost.
Phosphatidylserine has been researched in a wide variety of age groups, demographics, and use-cases. It is one of the most researched supplemental ingredients for cognition you will find. It would be too much to ever cover in this product write-up, so we simply suggest to spend some time researching the benefits of phosphatidylserine if you don't want to take our word for it.
---
NeuroFactor
NeuroFactor Natural Support for Brain Health.
In two human clinical studies, NeuroFactor has been shown to significantly stimulate BDNF (brain-derived neurotrophic factor), a protein responsible for the development, differentiation, and protection of neurons in the central and peripheral nervous system and strongly implicated in cognitive and mental health.
In the same studies, no significant increase in BDNF was seen in subjects taking the same amount of brewed coffee, green coffee bean extract, natural coffee caffeine, grape seed extract, or chlorogenic acid.
Supplement Facts :
Serving Size

2 Capsules


Serving Per Container

60
Amount Per Serving

Calories
5
Magnesium (as magnesium-l-threonate) 72mg
18% DV
Magnesium-l-threonate (Magtein) 1000mg
*
Phosphatidylserine (SerinAid) 200mg
*
Coffee Fruit Extract (NeuroFactor) 50mg
*
* Percent Daily

Other Ingredients: Hydroxypropyl Methylcellulose (vegetable capsule), Magnesium Stearate, Silica, Titanium Dioxide Color
Directions: Take 2 capsules, twice daily.
Disclaimer:The products listed on Suppremacy are intended to be used as a dietary supplements. They are not miracle cures. These Statements have not been evaluated by the food and drug administration. This product is not intended to diagnose, mitigate, treat, cure or prevent any disease. Please always consult with your physician before consuming any dietary supplement.