Quick Links to Best Prices Price History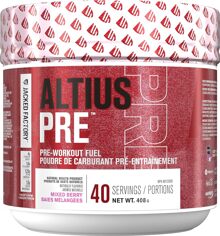 Jacked Factory's ALTIUS is a fully-loaded pre workout supplement that brings the kitchen sink alongside a super solid 325mg caffeine dose. If you can handle the caffeine, you're gonna love this!
Our ALTIUS Review and Ingredient Analysis
You can read the best information on our Altius Pre Workout blog post, and we also have an Altius Pre Workout Review where Robert and Mike discuss how they liked it overall after using it for a while!
---
The Altius Description
INCREASE STRENGTH, INCREASE POWER OUTPUT, ENHANCE ENDURANCE, BOOST BLOODFLOW TO THE MUSCLE FOR AMAZING PUMPS, AND BOOST OVERALL WORKOUT PERFORMANCE. Champions aren't born, they're made. ALTIUS will give you the competitive edge you need to continuously push the limits of your training.

100% PREMIUM ACTIVE INGREDIENTS. Each ingredient serves a performance enhancing purpose, and each ingredient is dosed at clinically effective levels.

NO ARTIFICIAL SWEETENERS, NO PROPRIETARY BLENDS, NO FOOD DYES. 100% Naturally Sweetened, 100% Naturally Flavored, and zero food dyes or artificial sweeteners. Fully transparent labelling, no proprietary blends.

BUILD MORE MUSCLE, HIT MORE REPS, PUSH MORE WEIGHT. Powered by 8 grams of 2:1 Citrulline Malate, 2.5g of Betaine Anhydrous, 3g of Creatine Monohydrate, and 3.2 Grams of Beta-Alanine.

ENDLESS CLEAN ENERGY, LASER FOCUS. Powered by 325mg of Caffeine Anhydrous, 500mcg of Methylcobalamin, and 150mg of ALPHA-GPC