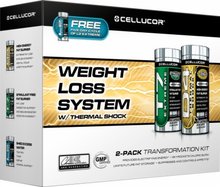 Cellucor Weight Loss System w/ Thermal Shock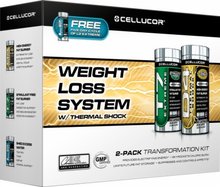 Cellucor Weight Loss System w/ Thermal Shock
The Cellucor Weight Loss System with Thermal Shock boasts a comprehensive approach to fat loss support.*.
Cellucor's Weight Loss System is comprised of three products synergistically designed to help support fat loss*: D4 Thermal Shock, T7 Extreme, and L2 Extreme.
An ultra-concentrated, high energy fat burner that supports metabolism and energy levels.*
A stimulant-free thermogenic that supports increases caloric burn.*
Containing vital electrolytes to replenish the body and support increased weight loss.*
D4 Thermal Shock incinerates body fat, delivering an adrenaline rush and explosive energy support to hlep power you through your most grueling workouts.* This ground breaking formula comes in an ultra-concentrated, convenient, 1 pill dose.
Most importantly, D4 Thermal Shock contains Octopamine, an anti-catabolic weight-loss support aid which has been clinically suggested to promote fat loss.*
T7 Extreme is a powerful, stimulant-free thermogenic that works to support a normal healthy appetite.* T7 Extreme utilizes 5-HTP to curb appetite and promote happiness and well-being—essential while trying to eat better, train hard, and most of all, lose weight.* T7 Extreme also contains Wakame Extract, a natural ingredient that supports metabolism.*
A 5 Day Cycle of L2 Extreme is included in this weight loss system. Using L2 Extreme at the beginning of your system may help kick start your weight loss and builds momentum.* Using L2 Extreme at the end of your system maximizes the definition you've been working hard to achieve.*
The Cellucor Weight Loss System is designed for dedicated gym goers and athletes looking for an extra edge to help expedite weight loss and maximize results!*
For more information on each of the Cellucor Weight Loss System components, visit the product pages for D4 Thermal Shock, T7 Extreme, and L2 Extreme.