Quick Links to Best Prices Price History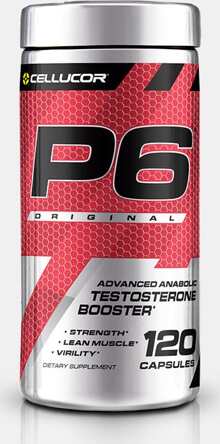 THE 'BIG THREE'
P6 SUPPORTS HEALTHY TESTOSTERONE LEVELS, MODULATES ESTROGEN, & REDUCES DHT FORMATION*
ALL-INCLUSIVE 3-IN-1
P6 FORMULA PROMOTES STRENGTH, ENHANCES VIRILITY, AND CREATES THE RIGHT ENVIRONMENT FOR MUSCLE GROWTH*
360° VIEW OF P6
Supports Lean Muscle Growth*
Modulates Estrogen*
Reduces DHT Formation*
Helps Improve Strength*
Enhances Virility*
TESTOSTERONE SUPPORT
High testosterone levels are correlated with strength, lean muscle mass, libido, and energy.* P6 helps you boost your natural testosterone production, while minimizing estrogen and DHT formation. Bringing these hormones into balance creates a better environment for natural testosterone production.*
WHY REGULATE TESTOSTERONE?
Your body strives constantly to achieve a balanced state. When testosterone levels rise, your body increases estrogen in an effort to balance the hormonal spike. As estrogen escalates, so do the unwanted effects—low libido, decreased strength and poor potential for muscle growth. P6 helps modulate rising estrogen while it supports elevated testosterone levels.*
PEEL BACK THE LABEL
Cellucor P6 features a premium 3-in-1 formula that supports natural testosterone production, inhibits estrogen formulation, and minimizes DHT conversion in a single, all-inclusive product.
THE TESTOSTERONE BOOSTERS*
Adaptest (KSM-66 Ashwagandha): A proprietary standardized extract of Ashwagandha—a daily serving has been shown, in a clinical setting, to improve muscle size, strength and natural testosterone levels in healthy adult men.*
Tribulus Alatus Fruit is a relative of Tribulus Terrestris and is thought to be more potent for its potential to support sexual function and promote muscle growth.*
Ovine Placenta Powder: Believed to be a natural HCG agonist and a rich source of growth factors.*
THE ESTROGEN & DHT INHIBITORS*
Saw Palmetto is a critical ingredient in P6, which helps support prostate and urinary health.* It also acts as a DHT inhibitor by helping to block the formation of DHT.*
Stinging Nettle Supports prostate and urinary health by helping to disrupt the binding and formation of DHT.*
LEAN MUSCLE* MODULATES ESTROGEN*
P6 CHROME
SUPPORTS TESTOSTERONE & MODULATES ESTROGEN*
Promotes Lean Muscle Growth*
Modulates Estrogen*
Promotes Increased Strength*
Enhances Virility*
SHOP NOW
RECOVERY* SLEEP SUPPORT*
P6 PM
SUPPORTS HEALTHY TESTOSTERONE LEVELS WHILE PROMOTING A BETTER SLEEP FOR RECOVERY*
Promotes Relaxation of the Mind and Body*
Optimizes Recovery*
Supports Male Virility*
Promotes Muscle Recovery*
SHOP NOW