Warning: This product is not currently available at any store.
Click the button above and PricePlow will email you with updates from BODYSTRONG.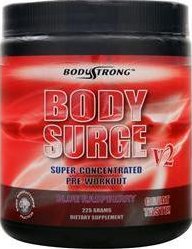 Body Surge - Super Concentrated Pre-WorkoutOverview
Body Surge, the New Standard in Pre-Workout Performance

When the task arose of creating a revolutionary pre-workout formula, BodyStrong's team of engineers delivered. The result? Body Surge—a super-concentrated workout formula not for the faint of heart. Once Body Surge kicks in, trust me, you'll feel it, and it's game time. The feeling you get from Body Surge is something you have to experience to believe. You'll walk into the gym and others will know you came to get work done because you're working out with a different attitude, a different purpose. Never again will you ask for permission to work in on a set. It's your machine; it's your gym.

Body Surge allows you to train harder and longer than with any other pre-workout blend or supplement, period. It's as simple as that. You'll minimize rest time, double your workout capacity, and find yourself resting between sets by doing additional exercises. After taking Body Surge, there's just no slowing down. Body Surge's proprietary blend is succinct, smart, and unquestionably effective. *

Body Surge is the Ultimate Pre-Workout Supplement for Bodybuilders & Athletes

When choosing a pre-workout formula the first two things that come to mind are quality and cost. Body Surge closes the book once and for all on the cost/quality dilemma by offering the best pre-workout formula on the market at the best price. Each tub of Body Surge contains 45 fully loaded servings. Try and find another pre-workout drink that has 45 full-strength servings at the current price of Body Surge. Yeah, I didn't think so.

The six key ingredients in Body Surge have been carefully selected to provide the ultimate workout experience. Together they exemplify the very purpose of Body Surge, to generate unrestrained pumps, unparalleled energy, and superior endurance. These primary concerns are addressed in Body Surge's Pump Matrix, Endurance Blend, and Energy Fusion:

1. •Body Surge Pump Matrix: The main driver behind Body Surge's Pump Matrix is arginine alphaketoglutarate (AAKG). The large serving of AAKG is responsible for the massive pumps Body Surge users have reported. Almost every pre-workout blend contains AAKG, but often times in quantities not large enough to make a noticeable difference and provide the pumps users are expecting. Pure creatine monohydrate is paired with AAKG to facilitate lasting muscle pumps and increased nutrient uptake, working together synergistically to shuttle more essential nutrients into hard working muscles. Results speak for themself with Body Surge, and after your first dose you'll be hooked on the pump alone. We've even heard stories of some users not being able to finish their bicep/back workouts because their biceps simply get "too pumped." You might have to keep a rack of dumbbells in bed with you so you can curl while you sleep. Seriously, how else are you going to get pumped when you wake up in the morning? *

2. •Body Surge Endurance Blend: Caffeine and CarnoSyn Beta-Alanine come together to provide a beautiful endurance-enhancing duo. As you probably know, caffeine is a strong central nervous system stimulant and beta alanine is a carnosine synthesizing amino acid. Beta alanine is also responsible for the short-term "pins and needles" feeling you may get from taking Body Surge. Beta-alanine works in muscles by boosting the synthesis of carnosine, which in turn reduces lactic acid production and increases the recycling rate of lactic acid. This translates into increased muscular endurance, more reps and longer sets. *

3. •Body Surge Energy Fusion: Tap into uncontrollable energy with an enhanced blend of 1,3-dimethylamylamine and shizandrol A. Both work synergistically with caffeine to provide the ultimate rush in energy and focus. Users report feeling an intense sense of focus and increased desire to work out. Bodybuilders feel more powerful under the bar. Sprinters report faster starts and stronger finishes. Athletes report higher jumps and increased endurance. Your attitude will change from hurrying to finish sets to seeing how far you can push yourself during each set. We all know every rep counts and this blend embodies that mantra. This blend will give you unparalleled intensity in the gym, and if you've been out of the game or not in the zone lately, this is what you've been looking for to get your gym mojo back. *

Body Surge's formula excludes unnecessary fillers such as maltodextrin and sugars that plague many other pre-workout drinks. A single 6g scoop of Body Surge gives you everything you need without the extra carbs and unhealthy additives. Only time-tested ingredients proven by science are included in Body Surge. The days of paying extra money for ineffective pre-workout drinks are over. Enlighten your workouts with Body Surge; you owe it to your body. *

Overview of Body Surge by BodyStrong

-Unparalleled Energy & Ultra-Intense Workouts*
-Significantly Increased Nitric Oxide Production*
-Vein Popping Pumps & Vascularity*
-Superior Focus & Endurance*
-Potentiated Strength & Power*

* These statements have not been evaluated by the FDA. This product is not intended to diagnose, treat, cure or prevent any diseases.
Body Surge - Super Concentrated Pre-WorkoutDescriptionfromBODYSTRONG
BodyStrong's Body Surge is the ultimate ultra-hardcore pre-workout supplement for the serious athlete ONLY. Ferocious energy, superhuman strength, vein-popping vascularity, increased muscle pumps and an intense feeling of mental clarity are just a taste of what you'll experience when you take just one super-concentrated scoop of Body Surge.

Beware - Body Surge is not for the faint of heart. Use extreme caution when taking this product and never exceed the recommended dose.
Supplement Facts
Serving Size: 6 grams
Servings per Container: 44
Ingredient
Amount
% Daily Value**
Calories
0
Sodium
52mg
2
Carbohydrates
0g
0
Sugars
0g
Body Surge Pre-Workout Blend
4760mg
-Arginine Alpha-ketoglutarate, Creatine monohydrate, CarnoSyn Beta Alanine, Caffeine
-1,3 Dimethylamylamine, Shizandrol A
 
** Percent Daily Value is based on a 2000 calorie diet. Your daily values may be higher or lower depending on your calorie needs.
† Daily Value not established.

Ingredients:
Citric Acid, Sodium Citrate, Natural & Artificial Flavors, Silicon Dioxide, Sucralose, Acesulfame-K, Red #40, Blue #1.
Manufacturer's Directions
Stir 1 scoop of powder into 4-6 ounces of water, juice or your favorite protein shake. Take before workouts or between meals. Do not exceed 2 scoops at one time.
Manufacturer's Disclaimer
Keep out of reach of children. Warning: If you are pregnant, nursing or taking any prescription medication or planning any medical procedure, consult your doctor before use. Discontinue use and consult your doctor if you experience any adverse reactions. Product contains caffeine.