Quick Links to Best Prices Price History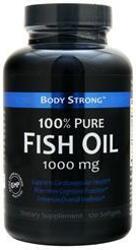 BODYSTRONG 100% Pure Fish Oil
Omega-3 Fish Oil (Double Strength)Overview
BodyStrong's 100% Pure Fish Oil softgels contain the omega-3 fatty acids EPA and DHA. Fish oil has been clinically researched and may improve symptoms of depression, strengthen joints, improve cholesterol, improve heart health & regulate blood triglyceride levels, soothe inflammation by acting as a potent anti-inflammatory, beautify the skin, reduce body fat, promote healthy brain function, improve eye health, reduce post-workout delayed onset muscle soreness, prevent heart disease, reduce the likelihood of developing Alzheimer's or Crohn's and reduce the risk of developing cancerous tumors. *

Omega-3 fish oil supplements help balance your intake of omega 3, 6 and 9 fatty acids. Modern diets high in fast foods and desserts naturally contain a lot of omega-6's and are scarce in omega-3's. This creates a omega fatty acid imbalance that over time can cause serious health detriments. Choosing a premium grade fish oil such as the one offered by BodyStrong offers you the convenience of adjusting your omega fatty acid intake without making radical changes to your diet. If you are deficient in omega-3 fatty acids, you'll notice improvements in your health almost immediately after initial supplementation. Even more important is the consideration of your long-term health. The long-term benefits of fish oil supplementation are simply undeniable and ensuring you have a regular supply of premium fish oil should be at the top of your supplemental priorities. *

Fish Oil's Anti-Inflammatory Properties for Optimal Joint Health

Both EPA and DHA have been shown to demonstrate powerful anti-inflammatory properties. Studies show that chronic inflammation can be managed by taking an omega-3 supplement on a regular basis. Extra fish oil should be taken on training days to provide your joints with plenty of free inflammation scavengers. Think about it; without healthy joints you won't be able to enjoy working out because of painful post-workout swelling and trauma. Supplementing with premium omega-3 fish oil is an easy way to ensure your joints remain healthy and operational for as long as possible. *

Fish Oil and Disease Prevention

The cardiovascular system is one of the biggest beneficiaries of fish oil supplementation, consisting of your heart, lungs, blood and the extensive network of veins and arteries connecting these organs. Omega-3's can improve blood flow, reduce arterial plaque and reduce the risk of heart attack and stroke. Most heart attacks and strokes are caused by clumps of arterial plaque that build up over time in blood vessels and eventually cause a roadblock, starving your brain and body of blood and oxygen. By supplementing with fish oil you reduce the likelihood of this happening because of the decreased formation of arterial plaque. This also results in decreased blood pressure since your heart doesn't have to pump as hard to move the same volume of blood throughout your body.*

Fish Oil and Brain Health

Your brain also stands to benefit from fish oil supplementation. Omega-3 supplementation has been linked to reduced risk of brain diseases such as schizophrenia and Alzheimer's. It's also important to note that fish oil users often report alleviation in symptoms of depression and anxiety. Many studies report that a combination of fish oil and regular exercises yield better results for depression and anxiety than prescription grade anti-depressants. *

BodyStrong 100% Pure Fish Oil Benefits

-Improves Cardiovascular & Heart Function*
-Improves Joint Health*
-Reduces Risk of Stroke & Heart Attack
-Lowers Body Fat*
-Fights Depression and Anxiety*
-Reduces Risk of Brain Disease*

* These statements have not been evaluated by the FDA. This product is not intended to diagnose, treat, cure or prevent any diseases.
Omega-3 Fish Oil (Double Strength)DescriptionfromBodyStrong
Double Strength Omega-3 Fish Oil
Omega-3 Fish Oil has twice the EPA (720 mg per serving) as in our regular strength product. The natural fish oil concentrate used in this softgel is manufactured under strict quality control standards. It is tested to be free of potentially harmful levels of contaminants (i.e. mercury, heavy metals, PCB's, dioxins, and other contaminants).
Research shows that consumption of EPA and DHA Omega-3 Fatty Acids may help reduce the risk of coronary heart disease.
Supplement Facts
Serving Size: 2 softgels
Servings Per Container: 180
Ingredient
Amount
% Daily Value**
Calories
20
-Calories from Fat
20
Total Fat
2g
3
-Polyunsaturated Fat
1g
†
Cholesterol
0mg
0
Protein
1
Natural Fish Oil Concentrate
2000mg
†
-Omega-3 Fatty Acids comprising of:
1200mg
--Eicosapentaenoic Acid (EPA)
720mg
†
--Docosahexaenoic Acid (DHA)
480mg
†
** Percent Daily Value is based on a 2000 calorie diet. Your daily values may be higher or lower depending on your calorie needs.
† Daily Value not established.

Contains Fish: Sardines, Anchovies, and Mackerel.
Contains Soy: Vitamin E from Soy.

Ingredients:
Other Ingredients: Softgel Capsule (gelatin, glycerin, water), and Vitamin E (as natural d-alpha tocopherols).
Manufacturer's Directions
Adults, take 2 (two) softgels a day with a meal.
Manufacturer's Disclaimer
If you are pregnant, nursing or taking any prescription medication or planning any medical procedure, consult your doctor before use. Discontinue use and consult your doctor if any adverse reactions occur.