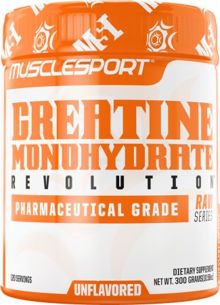 MuscleSport Creatine Monohydrate Revolution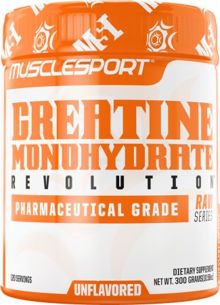 MuscleSport Creatine Monohydrate Revolution
Strength Gains*
Performance*
Unflavored // Clinically Dosed
Creatine Monohydrate Revolution is our raw, unflavored creatine monohydrate formula. As a whole, creatine is arguably the most extensively researched and effective supplement available today. Over 500 studies exist of the ergogenic benefits of creatine supplementation proving results in the form of strength gains, cell volumization and even rapid muscle recovery.
Clinically Tested & Relentlessly Studied
The ISSN (International Society of Sports Nutrition) position stand on creatine monohydrate (CM) found that short-term CM supplementation has been reported to improve maximal power/strength (5–15%), work performed during sets of maximal effort muscle contractions (5–15%), single-effort sprint performance (1–5%), and work performed during repetitive sprint performance (5–15%). Long-term CM supplementation appears to enhance the overall quality of training, leading to 5 to 15% greater gains in strength and performance.