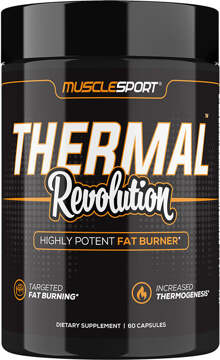 MuscleSport Thermal Revolution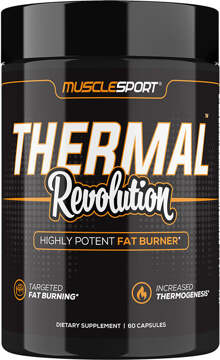 MuscleSport Thermal Revolution
ADVANCED
FAT BURNING.
FULLY TRANSPARENT
THERMOGENIC
THE SCIENCE
BEHIND THE PERFORMANCE
Weight Loss Support *// APPETITE CONTROL*
Thermal Revolution is the result of countless hours of research and development. Clinically dosed ingredients create a synergistic combination, working together to make your dieting and training efforts more effective. With THERMAL Revolution, you don't need to worry about cutting through all the bull, we've done it for you! All that's left to do is let Thermal cut through the fat.
hyper-targeted
fat metabolism*
Caffeine anhydrous & infinergy
Caffeine is well-known, but this is not your typical caffeine. The patented addition of malate to two caffeine molecules smoothes any agitation from and prolongs the metabolic-boosting effects of caffeine.*
capsiatra capsaicin
Help protect your hard-working body from storing carbohydrates as body fat but rather stuffing your muscles full of glycogen for faster energy production and recovery.*
Hordenine
Paired with other CNS stimulants, it induces a burst of adrenaline, giving a huge boost to metabolism while simultaneously enhancing blood flow.*