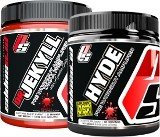 Pro Supps Pre Workout Insanity Stack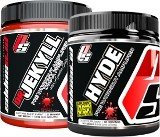 Pro Supps Pre Workout Insanity Stack
Dr. Jekyll

Infused with Pikatropin to Promote Focus and Determination During Exercise*
Efficacious Dose of Creatine Hydrochloride in Every Serving*
L-Leucing and HMB for Recovery and Anabolic Muscle Development*
Agmatine Sulfate to Promote Muscle-Swelling Pumps and Nutrient Transport*

From the training journal of IFBB Pro Art Atwood comes Dr Jekyll: A powerful but DMAA free formula that answers the call for a true anabolic pre-workout powder. Unlike its evil 'split-personality' Mr Hyde, Dr Jekyll supplies intense energy without the controversy. Dr. Jekyll combines the effects of a sensory-focused and vein-popping pump formula with added anabolic compounds L-Leucine, L-Norvaline, and Creatine Hydrochloride.*

Hyde V2

Potent combination of high-powered thermogenic compounds*
Efficacious dose of Creatine Hydrochloride in every serving*
Infinergy energy blend for maximum receptor sensitivity*
Infused with Agmatine Sulfate for muscle-swelling pumps and nutrient transport*
A True 40 days of mind-blowing workouts*

Providing a new and improved version of their old formula, ProSupps has created Hyde V2 so you can experience the most intense pre-workout that you'll ever come across. With an impressive blend of the most workout-effective ingredients, Hyde V2 will give you the power you need to push through those stubborn plateaus you've been hitting.

Only using the most potent thermogenic ingredients, you'll be able to fill up with energy for bigger, stronger pumps and fuel your body with all the nutrients your muscles need to continually build up for lean, toned muscle mass. Now you can amplify your workouts with a single scoop of Hyde V2 added to your daily exercise routine.