Warning: This product is not currently available at any store.
Click the button above and PricePlow will email you when the first store has it in stock!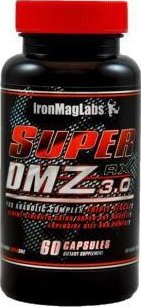 IronMag Labs Super DMZ Rx 3.0
Supplement Facts
Super Dmz 3.0 rx by Ironmaglabs
Super dmz 3.0 is one of the strongest triple stack designers ever made.
Whats in super dmz 3.0? Alpha 1, Methylstenbolone, and Dymethazine.
Alpha 1:

Is a slightly methylated version of 1-AD and also has a amazingly superior
conversion ratio compared to the amazingly strong but banned Methyl 1-Testosterone
(M1T). M1T was more than arguably one of the most potent disigner steroids to ever
hit the over the counter market. That being said, Alpha-1 possesses two distinct
and powerful anabolic pathways that will produce rapid and profound gains in
musclemass and power and is a direct clone of the forememtioned M1T. ALPHA-1 MAX
does not aromatize which means conversion to estrogen is not a concern at all.
 Methylstenbolone:

Methylstenbolone or (M-sten)is a new designer that is extremely potent for building mass and
size at a rapid rate comparable to popular anabolics such as dianabol or anadrol.
Is a replacement of the recently banned superdrol. WHY? Because Methylstenbolone
does not convert to an estrogenic metabolite or have any affinity for the
progesterone receptor, so estrogen mediated side effects should be virtually non-
existentMakine superior mass gains exceptional with zero bloating.

 Dymethazine:

 Dymethazine or (DMZ) was a prescribed anabolic at one time therefore we have human trials in which
this steroid was used. This compound has been around since 1962 when it was
presented in the literature. Early on it was sold under the Roxilon brand name.
Being a variant of Superdrol, it has many close characteristics. Dymethazine does
not convert into estrogen and it's often stacked with a "wet" prohormone to reduce
side effects. This is one very strong mass gainer.


In a nutshell:
You have one of if not "THE" strongest triple stack
designer to ever hit the market (stronger than most quad and 5 stacks) with all 3
being in the "dry gains" department and virtually no conversion to estrogen makes
super dmz 3.0 one powerhouse of a winning mass gainer.

Can I use this for Cutting?

Yes Super Dmz 3.0 can be used for cutting cycles, your gains will be dependant
upon diet and training reigime to determine if this becomes a bulking or cutting
cycle with super dmz 3.0.
Can I use this for Bulking?
Yes Ironmag labs recommends this for bulking as the 3 compounds in DMZ 3.0 are lean dry gains because this supplement does not Aromatize (convert to estrogen). So it is ideal for bulking cycles and most users report an average of 10-12lb of lean hard muscle mass gains during a 4 week cycle of Super Dmz 3.0.
Do I need an Estrogen Blocker?

No Estrogen Blocker is required for DMZ 3.0. Some users opt to take an estrogen blocker to to make the cycle more complete and cover all their bases. This is absolutely fine and will just enhance the overall gains on cycle. Ironmag labs E-control 2.0 is recommended for this.

Do I need cycle support?
Yes all 3 compounds in Super Dmz 3.0 are liver toxic so a strong on cycle support and a PCT is HIGHLY recommended. We recommend taking "cycle support" by hard rock supplements. https://www.legendarysupplements.com/cycle-support-by-hard-rock/

Do I need PCT?
Yes post cycle therapy is vital to keep any gains aquired on your cycle of Super dmz 3.0 and to insure keep most of your strength as well. Our top recommendation for PCT is Stage 5 by EPG. https://www.legendarysupplements.com/arime-pct-stage-5-by-epg/
Super Dmz 2.0 by Blackstone Labs vs Super Dmz 3.0 by Ironmag Labs What exactly is the difference?
The main and only difference between Super dmz 2.0 other than the companies use different manufacturers for there raws(the compounds that make up the prohormones) is that Super dmz 3.0 has the added compound Alpha 1 that makes it a triple stack instead of just the Dymethazine and Methylstenbolone. In theory this would  make super dmz 3.0 the stronger of the two. 


Recommended Cycle/Stack:
Super Dmz 3.0 
4 Andro
Cycle Support 
Stage 5 
E control 2.0
Recommended Dosage on cycle:
1-2 capsules per day
Use in cycles of no more than 4 weeks
Check out the new Super DMZ 4.0 by IronMagLabs.

Shop IronMag Labs Super DMZ 3.0 at the lowest price with Legendary Supplements daily low pricing!Information About IronMag LabsBrowse other IronMag Labs Supplements Shop Other Prohormones and Muscle Builders