Warning: This product is not currently available at any store.
Click the button above and PricePlow will email you when the first store has it in stock!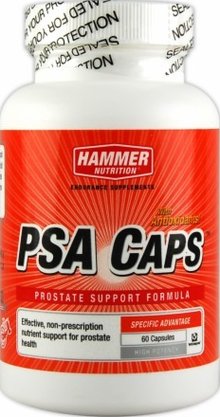 Hammer Nutrition PSA Caps
PSA Caps is an all-natural formula
that helps support a healthy prostate.* If you're over 40 years old, PSA Caps may be a must-have supplement for you.
The PSA Formula
Beta Sitosterol - This plant sterol helps promote healthy, normal levels of DHT.*
Saw Palmetto Extract (Seronoa repens)- The extract from this plant (a creeping palm with a trunk that lies on or just below the ground surface) is arguably the most frequently used for prostate support.*
Stinging Nettle (Urtica dioica Root Extract 4:1) - The active ingredient in this herb-like shrub promotes inhibition of the ability of epidermal growth factor (a key in supporting healthy prostate function).*
Epilobium (small flower willow) - Epilobium contains two polyphenols (Oenothein A, Oenothein B), which promote the inhibition of the 5-alpha reductase enzyme conversion of testosterone to DHT.* Epilobium also promotes the inhibition of aromatase from converting testosterone to estrogens, which happens in older males as they age, helping to reduced harmful DHT, estradiol.* Epilobium also promotios the inhibition of two types of prostaglandin 2's (especially E-2).*
Lycopene - This member of the carotenoid family (it produces the red/reddish color in tomatoes, watermelon, pink grapefruit, guava & papaya) is a powerful antioxidant that supports health of the Deoxyribonucleic Acid (DNA) content of lymphocytes (cells found in the blood, lymph, and lymphoid tissues) from oxidative damage.*
Alanine, Glutamic Acid, Glycine - These amino acids, when taken for 14 days or more, supported a healthy prostate.* In order to positively affect/influence several hormonal pathways involving prostate health, these particular amino acids should be consumed 60+ minutes before other amino acids (or protein-containing foods) are consumed.*