Warning: This product is not currently available at any store.
Click the button above and PricePlow will email you when the first store has it in stock!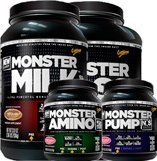 The Monster Stack from CytoSport is designed for serious lifters who want to pack on size and lean muscle. This complete stack covers all bases: Calories for weight gain, pre/intra/post workout supplementation, highest quality protein and more. The monster stack can seriously help you become a monster!
Cytosport Monster Mass
Monster Mass is the most powerful, yet easily digestible, mass-building protein in history. Although it tastes like an ultra-rich milk shake, Monster Mass's 600+ calorie advanced protein and carbohydrate systems make it the ultimate nutritional tool for building monster size and muscle.*
Cytosport Monster Milk
Science confirms what athletes always knew: high quality protein intake is linked to muscle size and strength. The 50 Grams of lean protein in Monster Milk help "flood" muscle fibers with a rich supply of amino acids so you can build bigger, stronger muscles while staying lean.*
Cytosport Monster Pump
Monster Pump is nature's ultimate power workout formula designed to give you powerful skin-bursting pumps. The four exclusive nutrient blends in Monster Pump fuel monster workouts for monster results. If you want to get big you need to lift big, and Monster Pump can help you get there!*
Cytosport Monster Amino
Monster Amino is an anabolic muscle fueling cocktail loaded with Branched Chain Amino Acids (BCAA's) and Monster Maize carbohydrates. Monster Amino helps to protect lean muscle during intense exercise and fuels muscle protein synthesis post-workout.*
Tips For Using The Monster Stack
Take Monster Mass between meals to give you an extra calorie, protein and carbohydrate boost. Take Monster Milk throughout the day to increase your protein intake. Protein is also essential post-workout, so mix Monster Milk with water and consume within 30mins of completing your routine. Monster Amino should also be taken post-workout. Take the Monster Maize during your workout, sip the Monster Maize as you would water, do not consume all at once.
Sample Daily Monster Stack Schedule:
7:30am - As soon as you wake up, once scoop of Monster Milk
7:45am - Meal 1 - breakfast
10:30am - Monster Mass
12:30pm - Meal 2 - lunch
3:00pm - Meal 3 - small meal
4:30pm - Monster Pump
5:00pm - Workout, sipping Monster Amino
6:15pm - Post-workout, Monster Milk
7:00pm - Meal 4 - dinner
9:30pm - Meal 5 - small snack
11:00pm - Monster Milk with water