Quick Links to Best Prices Price History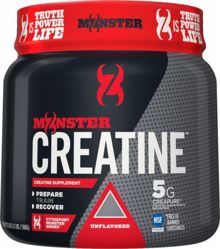 CytoSport Monster Creatine
Creatine Supplement
MONSTER CREATINE™ Supplement and Supplement Mix help fuel muscles to enhance your workout and to help build strength and lean muscle.*
Here is what is inside per serving:
5g CREAPURE CREATINE MONOHYDRATE
NSF Certified for Sport
Flavors: Unflavored, Grape, and Watermelon.
Helps fuel muscles to enhance your workout and to help build strength and lean muscle. Works at the cellular level to promote strength, power and endurance during your workout. Helps support ATP to help fuel muscular contractions.*
NSF screens supplements for more than 200 substances banned by most major athletic organizations. The main components of NSF's certification program are label claim review, a toxicology review to certify the formulation and contaminant review to ensure against contaminants. nsfsport.com
What Do You Stand For?
We stand for truth, power and unyielding support of athletic lifestyles. This is our unwavering commitment to quality. A symbol to carry and support you before, during and after training or competition. Monster stands for Truth: fully disclosed nutritional ingredients and no proprietary blends; Power: efficacious formulations that enhance your performance; Life: inspiration you need to achieve your lifelong goals. Because truth is power, power is performance and performance changes lives.*