Quick Links to Best Prices Price History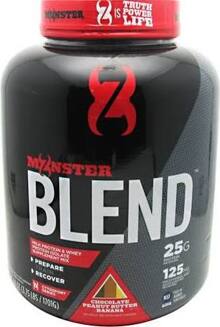 Monster Blend
NSF Certified for Sport - Free from Banned Substances:
NSF screens supplements for more than 200 substances banned by most major athletic organizations. The main components of NSF certification program are label claim review, a toxicology review to certify the formulation and contaminant review to ensure against contaminants.
ProHydrolase:
Patented enzymes can assist with the breakdown and digestion of proteins.
15G Milk Protein From Milk Protein Isolate:
A source of both casein and whey proteins. Casein digests more slowly than the rapidly digested whey proteins.
10G Whey Protein From Whey Protein Isolate:
Naturally rich in glutamine and the branched-chain amino acids leucine, isoleucine, and valine.
125MG ProHydrolase Digestive Enzymes:
Supports the normal digestion of protein which yields peptides and amino acids, the building blocks of muscle protein.
1G Added L-Leucine:
This amino acid helps stimulate muscle protein synthesis at the cellular level.