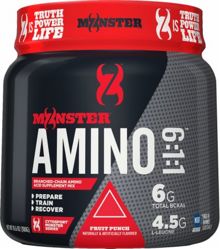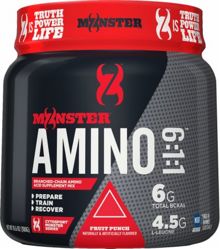 TRUTH - POWER - LIFE: What Do You Stand For?
We stand for truth, power and unyielding support of athletic lifestyles. This is our unwavering commitment to quality. A symbol to carry and support you before, during and after training or competition. Monster stands for TRUTH: fully disclosed nutritional ingredients and no proprietary blends; POWER: efficacious formulations that enhance your performance; LIFE: inspiration you need to achieve your lifelong goals. Because truth is power, power is performance and performance changes lives.
6:1:1 BCAAs - Leucine, Isoleucine, Valine:
When used as part of your workout and recovery program the BCAAs can help promote muscle protein synthesis.
NSF Certified for Sport - Free of Banned Substances:
NSF screens supplements for more than 200 substances banned by most major athletic organizations. The main components of NSF certification program are label claim review, a toxicology review to certify the formulation and contaminant review to ensure against contaminants.
PepForm - Leucine Peptides:
Leucine peptides made from proprietary process that binds free-form leucine to leucine peptides isolated from whey.
4.5G L-Leucine From PepForm Leucine-Enriched Whey Peptides and Free-Form L-Leucine:
This BCAA helps stimulate muscle protein synthesis at the cellular level.
0.75G L-Isoleucine & L-Valine From PepForm Leucine-Enriched Whey Peptides and Free-Form L-Isoleucine and L-Valine:
These BCAAs, together with L-Leucine, can help enhance muscle growth and recovery after exercise.