Quick Links to Our Prices Price History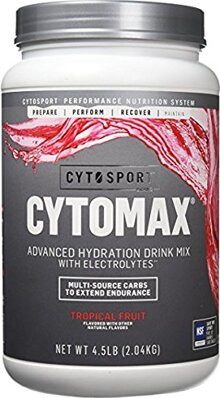 CytoSport Cytomax
Cytomax Performance Drink is made for a different brand of athlete. Its blend of complex carbohydrates and sugars work to sustain energy, so you can train harder, build stamina, and achieve superior results - Proven Results!*
Beat the Burn
Exclusive to Cytomax products, Alpha-L-PolyLactate is a proprietary energy source proven to provide energy longer and faster. Cytomax lowers acid in muscles, which prevents burning and cramping during training and helps reduce soreness and speed recovery.*
Cytomax Performance Drink is made with a unique blend of Alpha-L-PolyLactate, complex carbohydrates, and electrolytes for an optimal energy supply. Compared to any other nutrient supplement available, Alpha-L-PolyLactate delivers energy faster, fuels the body more optimally, and better protects it from acid build up.*
The Advanced Carbohydrate System (ACS) which incorporates multiple fuel-energy sources including our proprietary, acid-buffering alpha-L-Polylactate, takes advantage of the body's natural ability to transport and deliver different carbohydrate sources through multiple unique pathways. This carbohydrate blend provides fast, intermediate, and prolonged energy, as well as vital electrolytes, helping athletes perform at high levels. Other sports nutrition products containing fewer energy sources are not able to deliver as much energy over the same time interval as Cytomax.*
Cytomax Research
Studies show that after three hours of intense exercise, athletes drinking Cytomax perform better; acid levels are lower, reducing cramping and post-workout soreness, while promoting re-hydration, strength and improved endurance.*
In a University Study, the Alpha-L-Polylactate found in Cytomax was shown to: Provide Energy 3X Faster and 3X More Efficiently Than Glucose. This breakthrough allowed athletes competing in a long hard ride (90 minutes at 65% VO2max) to sprint 22% longer on Cytomax than when consuming another popular sport drink.
Simply put, Cytomax outperforms the competition - so you can outperform yours.
To view the Cytomax study click HERE.
Cytomax mixes easily with water and tastes delicious! And at up to 82 serves in one container, it's also a great value!
Benefits of Using Cytomax:
Beats The Burn: Cytomax's patented alpha L-Polylactate buffers lactic acid production in your muscles, reducing the "burn" during intense training and minimizing post-exercise muscle soreness.*
Steady Energy: Complex carbs stabilize blood sugar during exercise - no sugar crash.*
Cell Protection: Antioxidants prevent exercise-induced free radical damage to muscle cells.*
Oxygen Delivery: Succinates enhanced oxygen delivery by up to 11% during exercise, reducing perceived exertion and minimizing muscle damage.*
Cellular Balance: Electrolytes ensure cellular nutrient balance is restored quickly after exercise.*
Low Osmoality: Ensures fluid reaches your muscles quickly - as fast as water!*
Natural Herbal "Lift": (in Tangy Orange and Go Grape flavors only) Reduces your perceived effort so you can push harder.*
Best Ways to Use Cytomax:
Before: Begin using Cytomax Performance Drink 15-30 minutes before training for quick, effective hydration, acid buffering and optimum levels of performance.*
During: Use Cytomax Performance Drink continually during exercise (32 fl-oz./hour) to ensure proper hydration/electrolyte replenishment and optimum levels of performance.*
After: Continue using Cytomax Performance Drink immediately post training to ensure glycogen restoration, electrolyte balance and to reduce post exercise cramping.*