Warning: This product is not currently available at any store.
Click the button above and PricePlow will email you when the first store has it in stock!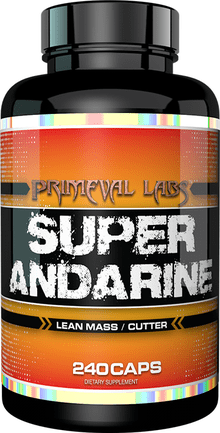 Primeval Labs Super Andarine
Primeval Labs
---
Super Andarine
Super Andarine by Primeval Labs is a powerful SARM known as S-4 that causes a dramatic drying out and hardening appearance of the muscle along with tightening of the skin. S-4 binds extremely well to the androgen receptors causing your fat to be oxidized which in turn provides users with a rapid reduction of body fat while maintaining lean muscle mass.Part of the reason why Super Andarine is highly effective at promoting a very defined and hardened muscular physique is because it has anti-estrogenic qualities. Because S-4 is not an androgen it does not aromatize this means that S4 cannot turn into any of the nasty estrogenic hormones that cause problems, the way anabolic steroids do.Super Andarine can be used to maximize your muscle growth at any time but is especially noted for its benefits during a cutting phase. It will also help to increase vascularity and give your muscles a hardened, sharper appearance.

Primeval Labs Super Andarine Key Benefits

Lean, Dry Muscle Gains

Increased Strength

Will Not Convert to Estrogen

Muscle Hardness

Accelerated Fat Loss

Great for Cutting

Increased Vascularity and Definition

Serving Size: 1 Capsule
Servings Per Container: 240

Super Andarine

Amount Per Serving
Serving
% DV
Andarine/S-4
(2S)-3-(4-acetamido-phenoxy)-2-hydroxy-2-methyl-N-(4-nitro-3-trifluoromethyl-phenyl)-propionamide
5 mg
–
*percent Daily Values are based on a 2,000 calorie diet.