Quick Links to Best Prices Price History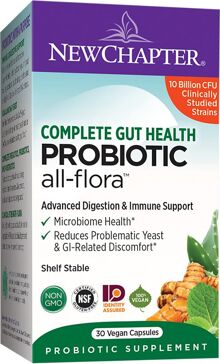 New Chapter Probiotic All-Flora
Whole-Food Live Probiotics Digestive Health Formula
Nine live probiotic strains delivered in whole-food media
Apples and Jerusalem Artichoke Inulin provide prebiotic nourishment
Non-Dairy
The Whole-Food Difference
New Chapter Probiotics with a Purpose formulas, inspired by revered cultured foods, deliver a full spectrum of live probiotics together with their organic, whole-food growth medium. Probiotic All-Flora's difference is that it delivers the full benefits of culturing: live probiotics, the organic whole-food growth medium, and resulting ferment metabolites.
Digestive support - Probiotic All-Flora delivers whole-food live probiotics (good bacteria) and prebiotic fiber to help promote digestive system wellness.*
Friendly flora - Multiple probiotic strains, including revered Lactobacillus acidophilus, help broadly support the body's internal microbial balance for digestive tract health.*
Dairy free - Probiotic All-Flora's microorganisms are cultured in a non-dairy, organic Soy medium, making this an excellent probiotic choice for people looking for a non-dairy option.
Prebiotic fiber - Whole-food organic Apples and organic Jerusalem Artichoke Inulin provide prebiotic nourishment to stimulate the growth of live probiotics and enhance their effects.
Freeze dried for potency - When culturing is complete, the live probiotics and rich whole-food growth medium are freeze-dried to help preserve their potency until consumed.