Quick Links to Best Prices Price History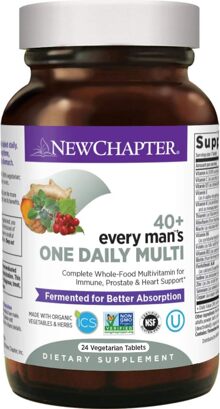 New Chapter Every Man's One Daily Multi 40+
Whole-Food Complexed Multi-vitamin for Normal Prostate, Heart & Vision Support*
Made with organic vegetables & herbs
Formulated specifically for the needs of men over 40
Convenient one a day dosage
Easily digested, even on an empty stomach
New Chapter Whole-Food Complexed Multi for Men's Health*
More than Food Supplements, yhey're Supplemental Food. All of New Chapter's Multi-vitamins are probiotic and whole. The nutrient needs of men and women can be vastly different the same can be said for people under forty versus over forty. New Chapter's formulation team takes exacting care with each nutrient and herbal blend in all of our targeted daily multi-vitamins to benefit the specific needs of the individual. New Chapter multi-vitamins are also Non-GMO Project verified and made with organic fruits and vegetables.
Cultured Whole Food
Organic herbs and cultured whole-food complexed vitamins and minerals support overall health.* Each tablet delivers safe and sound potencies of 23 vitamins and minerals, including Vitamin A, Vitamin C, and Vitamin E.
Men 40+
Whether you're a man over 40, over 50, or beyond, this whole-food complexed multi-vitamin is formulated specifically for your needs.
Prostate Support*
For holistic men's health support, Supercritical Saw Palmetto, Nettle Root, and Pumpkin Seed oil work together to support overall health.*
Heart, Eye & Digestive Support*
Vitamin blend including six whole-food complexed B Vitamins and Vitamin D3, with whole foods like organic Oregano and Fenugreek support normal heart, eye, and digestive health, and also may help support stress.*
Once Daily
Convenient one a day multi-vitamin formula is easy to take, easy to digest and can be taken anytime even on an empty stomach.