Quick Links to Our Prices
How does this work and how do stores get listed? See our disclosure below to learn more. Price History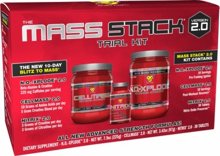 BSN The Mass Stack 2.0 Trial Kit
The Mass Stack 2.0 Trial KitDescriptionfromBSN
Whether it's greater size and strength that you're after or improved speed and endurance, BSN knows you're out there, day after day, pushing yourself to the edge in order to get one step closer to your goal. Whatever your endgame, you deserve a complete pre-workout igniter that can keep pace. BSN has answered the call with its most powerful formula yet, equipping athletes everywhere with the tools to achieve real progress and push past previous limitations. Experience the new strength of a legend - experience ADVANCED STRENGTH N.O.-XPLODE 2.0, the extreme pre-training energy & performance igniter. Taken during the crucial Pre-Training Supplement Timing Window, ADVANCED STRENGTH N.O.-XPLODE 2.0 is designed to support Muscular Endurance, Strength and Resistance to Muscular Fatigue, Muscle Growth, Mental Alertness and Focus, Nitric Oxide Production, Muscle Fullness, Pumps and Vascularity, Anaerobic Working Capacity of Muscle Tissue, Oxygen Delivery to Muscle Tissue, Fat-Burning, Promotion of Electrolyte and Fluid Balance

CELLMASS 2.0 is a state-of-the-art concentrated post-training recovery agent. After an intense training session, muscles are in a state of heightened stress and need the right support in order to recover, paving the way for strength and athletic performance. To facilitate this, CELLMASS 2.0's completely redesigned formula delivers three forms of creatine as well as glutamine, taurine and hydrolyzed whey protein to replenish fatigued muscles and kick-start the recovery process after a workout.

NITRIX 2.0 is the latest advancement in concentrated nitric oxide precursor formulas, designed to support pumps, endurance and performance. The key to the all-new redesigned NITRIX 2.0 formula is the inclusion of 3 grams of the amino acid L-citrulline, a precursor to nitric oxide, setting NITRIX 2.0 apart and once again demonstrating BSN's relentless devotion to innovation and moving the world of supplementation forward.
N.O.-Xplode 2.0
Supplement Facts
Service Size: 1 Scoop
Servings Per Container: 10
Ingredient
Amount
% Daily Value**
Calories
40
Total Carbohydrate
10g
3
Vitamin B6 (as Pyridoxine HCI)
20mg
1000
Folate (Folic Acid)
300mcg
75
Vitamin B12 (as Cyanocobalamin)
120mcg
2000
Calcium
65mg
7
Phosphorus
175mg
18
Magnesium (as Magnesium Oxide)
55mg
14
Sodium
350mg
15
Potassium
85mg
2
N.O.-Xplode 2.0 Proprietary Blend
19.6g
-Advanced Strength & Performance Matrix
--Modified Glucose Polymers (Maltodextrin), Beta-Alanine (CarnoSyn)
--Di-Creatine-Malic Acid Interfusion, Betaine HCl, Sodium Bicarbonate
--Creatine-Sodium Phosphate Matrix, Creatinol-O-Phosphate, Creatine Ethyl Ester HCI, Malic Acid
--Glycocyamine, Guanidino Propionic Acid, Cinnamon Extract (Bark) (Cinnulin PF)
--Ketoisocraproate Potassium, Creatine-Alpha-Aminobutyric Acid Matrix (Creatine AAB)
-Ener-Tropic Xplosion
--L-Tyrosine, Taurine, Glucuronolactone, Methylxanthine (Caffeine)
--L-Tyrosine-Alpha Ketoglutaric Acid, MCTs (Medium Chain Triglycerides), Lesser Periwinkle
-N.O. Meta-Fusion
--L-Arginine-Alpha Ketoglutaric Acid, L-Citrulline-Malic Acid Interfusion
--L-Citrulline-Alpha Ketoglutaric Acid, L-Histidine-Alpha Ketoglutaric Acid
--NAD (Nicotinamide Adenine Dinucleotide), Gynostemma (Leaves & Stem)
-Phospho-Electrolyte Composite
--Di-Calcium Phosphate, Di-Potassium Phosphate, Di-Sodium Phosphate
-Glycerol Polymer Complex
--Potassium Glycerophosphate, Magnesium Glycerophosphate, Glycerol Stearate
** Percent Daily Value is based on a 2000 calorie diet. Your daily values may be higher or lower depending on your calorie needs.
† Daily Value not established.


Cellmass 2.0
Supplement Facts
Service Size: 1 Scoop
Servings Per Container: 10
Ingredient
Amount
% Daily Value**
Calories
10
Total Carbohydrate
1g
Protein
2g
4
Calcium
20mg
2
Cellmass 2.0 Proprietary Blend
8.3g
-Recovery Composite
--Whey Protein Hydrolysate, L-Glutamine, and Glutamine Peptides
-Myogenic Matrix
--Creatine Monohydrate, Creatine HCI (Con-Creat) and Creatine Anhydrous
-Insulino Interfusion
--Taurine and Banaba Extract (Leaf)
** Percent Daily Value is based on a 2000 calorie diet. Your daily values may be higher or lower depending on your calorie needs.
† Daily Value not established.


Nitrix 2.0
Supplement Facts
Service Size: 3 Tablets
Servings Per Container: 10
Ingredient
Amount
% Daily Value**
Niacin
12mg
60
Nitrix 2.0 Proprietary Blend
3.6g
-Concentrated Nitrix Composite
--L-Citrulline, Hawthorne Extract (Aerial Parts), Pomegranate Fruit, Grape Seed Extract
--Pterostilbene, Red Pepper Extract (Capsimax), trans-resveratrol (resVida)
--Black Pepper Extract (Fruit) (BioPerine)
-Myogenic Matrix
--Creatine Monohydrate, Creatine HCI (Con-Creat) and Creatine Anhydrous
** Percent Daily Value is based on a 2000 calorie diet. Your daily values may be higher or lower depending on your calorie needs.
† Daily Value not established.


N.O.-XPLODE 2.0contains milk and coconut ingredients.
Cellmass 2.0 contains milk, wheat and soy (lecithin) ingredients.


Ingredients:
N.O.-XPLODE 2.0
Other Ingredients: Citric Acid, Natural & Artificial Flavors, Potassium Citrate, Sucralose, Calcium Silicate, FD&C Red #40 and Acesulfame Potassium

CELLMASS 2.0
Other Ingredients: Natural and Artificial Flavors, Malic Acid, Citric Acid, Calcium Silicate, Silicon Dioxide, Beet Root Powder, Lecithin, Sucralose and Acesulfame Potassium

Nitrix 2.0
Other Ingredients: Aqueous Coating, Microcrystalline Cellulose, Stearic Acid, Croscarmellose Sodium, Magnesium Stearate, Silicon Dioxide, FD&C Red #40, FD&C Yellow #6, Titanium Dioxide, and FD&C Blue #2

Manufacturer's Directions
N.O.-XPLODE 2.0
As a dietary supplement, mix 1 scoop with 5-6 oz of cold water and consume 30-45 minutes before training. If desired use a seconds scoop at least 3 hours after using the initial scoop. For best results, use a third scoop 3 hours after the second scoop. Do not exceed 3 scoops in one day. To achieve maximum results take on an empty stomach.

Cellmass 2.0
As a dietary supplement, mix 1 scoop with 4-6 oz. of cold water or any beverage of your choice twice a day.

Nitrix 2.0
As a dietary supplement, take 3 tablets 2 times per day.

Manufacturer's Disclaimer
Consult your physician before using this product if you are taking any medications or are under a physician's care for a medical condition. Not for use by those under the age of 18. Women that are pregnant, trying to get pregnant, or nursing. N.O.-XPLODE 2.0 is not for use by those that are sensitive to caffeine or beta-alanine. While consuming sources as too much caffeine may cause nervousness, irritability, sleeplessness, and occasionally rapid heartbeat. Nitrix 2.0 is not for use by those that are sensitive to niacin. Keep out of reach of children and pets. Store in a dry place away from direct sunlight.

Do not combine with alcohol. Consume as part of a healthy diet, and drink at least 100 oz of water per day. Exercise may increase your need for fluid intake.




Be The First To Review This Product







Similar Products

BSN Nitrix 2.0 Advanced Strength   90 tabs

Our Price $22.99

BSN N.O.-Xplode 2.0 - Advanced Strength Lemon Lime  2.48 lbs

Our Price $33.99

BSN NO-Xplode - Caffeine Free Fruit Punch  14.46 oz

Our Price $13.89