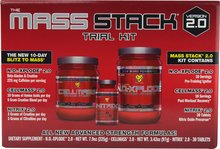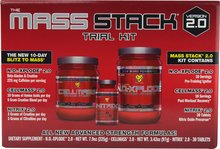 The Mass Stack Advanced takes the rock-solid foundation of the original Mass Stack and bolsters it with two sources of ultra-premium nutritional support. N.O.-Xplode ignites your workout, Cellmass 2.0 helps you recover afterwards, and Nitrix 2.0 lays an all-day foundation of performance to help you get the most from your training. Syntha-6 provides quality protein supplementation with an unbeatable taste, and True-Mass offers a more extensive profile in the form of quality protein, designer carbohydrates and valuable fats. Rounding out this stack is Evotest, included to further support your hard-hitting lifestyle.*
N.O.-Xplode - 30 Servings
In 2004 BSN changed the landscape of sports nutrition forever when we introduced the first complete pre-workout supplement, N.O.-XPLODE. Now featuring a more concentrated formula and advanced ingredient technology, N.O.-XPLODE has been re-engineered to push you and your workout past previous limits. After talking to supplement users and hearing their feedback, we crafted a new formula designed to help deliver explosive energy, enhanced endurance and maximum performance. We also took our work one step further and enhanced the taste, ensuring the new N.O.-XPLODE delivers on the BSN promise of great taste and superior mixability.*
Explosive Energy*
Enhanced Endurance*
Maximum Performance*
Focus, Muscular Strength, and Power*
Cellmass 2.0 - 30 Servings
BSN has raised the bar on advanced recovery supplementation with the introduction of Cellmass 2.0. Taken immediately after training, Cellmass 2.0 is designed to support:
Recovery from Training Sessions*
Replenishment of Muscle Creatine and Glutamine Stores*
Muscle Strength and Endurance*
Muscle Sparing*
Cellmass 2.0 is a state-of-the-art concentrated post-training recovery agent. After an intense training session, muscles are in a state of heightened stress and need the right support in order to recover, paving the way for strength and athletic performance. To facilitate this, Cellmass 2.0's completely redesigned formula delivers three forms of creatine as well as glutamine, taurine and hydrolyzed whey protein to replenish fatigued muscles and kick-start the recovery process after a workout.*
Taking Cellmass 2.0 promotes more efficient recovery, combats muscular fatigue and breakdown, and supports muscle strength, endurance and overall performance. Adequately recovered from an intense training session, athletes are better prepared to excel in the following day's workout. For anyone who wants to ensure that their workouts don't go to waste and their hard-earned muscle isn't compromised, Cellmass 2.0 is where mass and recovery begin.*
BSN Nitrix 2.0 - 90 Tablets
Volumizes Vascular and Muscle Tissue*
All-Day Vascularity, Pumps, Muscle Tone, and Hardness*
Promotes Tissue Recovery, Repair, and Endurance*
Lessens Muscle/Joint Pain and Stiffness*
Supports Maximal Nitric Oxide (NO) Levels*
Used by Advanced Bodybuilders and Fitness Models to Bring out Size and Vascularity*
Nitrix is what's called an a.m. to p.m. vaso-muscular dilator. This product does its job by expanding your blood vessels, which acts to increase blood flow, oxygen and nutrient delivery to your muscle cells. By guaranteeing the efficient travel of blood and nutrients throughout the body, you will experience improved workout performance, amazing pumps, all-day muscle fullness and vascularity, increased energy, a higher resistance to fatigue and a greater ability to recover. Nitrix is the base to all of your supplementation needs.*
Syntha-6 - 2.91lbs
Sustained Release (Up to 8 Hours of Amino Acid Nitrogen Delivery)
Multi-Functional A.M.-P.M. Protein Blend
6 Premium Proteins (Nutritionally Complete/Complete Amino Acid Profiles)
Active Protein Utilization Enzymes (Papain and Bromelain)
Branched-Chain Amino Acids and Essential and Non-Essential Amino Acids
Medium Chain Triglycerides (MCTs), a Fast-Burning Energy Source
Glutamine Peptides
Great Source of Fiber
Aspartame Free
12 'Ridiculously' Delicious Flavors
Syntha-6 is the ultra-premium protein that tastes 'ridiculously' delicious! This multi-functional a.m. to p.m. protein powder has 6 individually complete proteins, each with different digestive rates and distinct amino acid profiles. This combination makes certain that your muscles are fed for up to 8 hours with the highest quality combination of proteins available. To improve this ultra-premium blend, Syntha-6 has also been fortified with BCAA's, muscle sparring glutamine peptides, Aminogen for better digestion, heart-healthy medium chain triglycerides (MCTs) and essential fatty acids, along with 5 grams of fiber for better digestion and greater nutrient uptake. Not only does Syntha-6 produce 'ridiculously' delicious protein shakes, it offers you with a healthy meal, perfect for your busy lifestyle.*
True-Mass - 5.75lbs
Multi-Functional Protein and Carbohydrate Matrix
7 Different Ultra-Premium Proteins
Ridiculously Delicious Milkshake Flavors
Sustained Release (8 Hours of Amino Acid Nitrogen Delivery)*
Active Protein Utilization Enzymes for Increase & Efficiency of Use*
BCAAs and Essential and Non-Essential Amino Acids
Medium Chain Triglycerides for Fast Burning Energy Source*
Glutamine Peptides and Glutamine AKG
Good Source of Fiber
Aspartame Free
True-Mass is a macronutrient-heavy lean mass gainer tailored specifically towards people looking for the additional caloric support necessary to maximize lean muscle mass gains, and for individuals that require a higher level of nutrients owing to a higher metabolic rate. True-Mass contains a multi-functional A.M. to P.M. protein blend that fuels your muscles for up to 8 hours, a blend of complex carbohydrates that offers readily available energy for your muscular frame, along with Medium Chain Triglycerides (MCTs) and Essential Fatty Acids (EFAs) for heart health and hormonal support. Further fortifying True-Mass is the addition of Branched Chain Amino Acids (BCAA's) for positive nitrogen balance, fiber for nutrient uptake, glutamine peptides for recovery and glutamine alpha ketoglutarate for maximal anti-catabolic effects.*
Evotest Tablets
Supports Production of Testosterone Already Within the Normal Range*
Efficacious Formula - Only 2 Servings per Day
9-Component TEST Matrix
Full 3-Week Cycle in Each Bottle
Available in Powder or Tablet Form
EVOTEST is BSN's reinvention of natural testosterone support, offering an innovative concentrated formula that will change the way consumers think about testosterone support supplements. By moving away from traditional ingredients such as tribulus terrestris in favor of novel ingredients like magnesium oxide and d-aspartic acid, BSN is hoping to get consumers to expect more performance out of their testosterone support supplement and see the difference this novel formula can make.