Quick Links to Best Prices Price History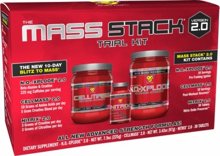 THE MASS STACK 2.0 TRIAL KIT CONTAINS:
(1) 10-serving N.O.-XPLODE 2.0 Fruit Punch for Pre-Workout Ignition
(1) 10-serving CELLMASS 2.0 Arctic Berry for Advanced Creatine Supplementation
(1) 30-ct NITRIX 2.0 for Muscle Pumps
BSN® pioneered the art of stacking supplements together to achieve optimal results with the introduction of the original MASS STACK®. BSN®'s original vision has now completed a massive overhaul that's been several years in the making, giving athletes of all disciplines and experience levels even more reason to build their regimen around these three exceptional formulas.
By combining the three synergistic formulas in one convenient stacking plan, not only are you stacking supplements, you are stacking results - workout ignition sparks growth, post-training recovery primes the body and nutrient delivery rounds out the recovery and growth process.* Three distinct formulas, one common goal: to build your all-time greatest physique.
THE MASS STACK® 2.0 - Bigger Is Better
THE MASS STACK 2.0 TRIAL KIT CONTAINS:
(1) 10-serving N.O.-XPLODE 2.0 Fruit Punch for Pre-Workout Ignition
(1) 10-serving CELLMASS 2.0 Arctic Berry for Advanced Creatine Supplementation
(1) 30-ct NITRIX 2.0 for Muscle Pumps
(1) Stacking Chart & Product Guide
(1) BSN Die-Cut Sticker
(1) Coupon for a Free BSN T-Shirt
For best results supplements should be taken as directed over time, at maximum dosage in conjunction with a healthy diet and regular exercise program. Results may vary.