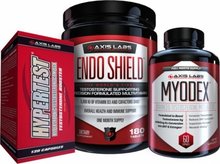 Axis Labs The Ultimate Testosterone Stack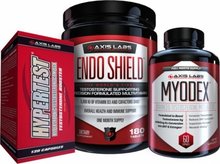 Axis Labs The Ultimate Testosterone Stack
The Ultimate Testosterone Stack:
Stage 2
The Ultimate Testosterone Stack - was designed to support optimal testosterone production while helping to close nutritional "gaps." First, HYPERTEST helps to drive testosterone production and then "free it" for peak bioavailability. Simultaneously, MYODEX promotes testosterone production while helping to buffer DHT and Estrogen - the "spin off" hormones that contribute towards male pattern baldness and fatty deposits in men (like "man boobs"). Endoshield works "behind the scenes" with a full-spectrum of vitamins and minerals to help guard against nutritional deficiencies. Endoshield features a precise dose of D3 and its co-factors. Vitamin D3, the biologically active form of Vitamin D, helps to support bone density, testosterone production, and protein synthesis. If you are striving to improve your testosterone levels but, due to a hectic lifestyle, may not achieve daily optimal micronutrient intake…this stack is for you!
HyperTEST™ Highlights
1000mg of Super Potent Bulgarian Tribulus TerrestrisPowerful Free Testosterone ComplexAdaptogenic Ingredients for Optimum Body FunctionsSupport Increased Natural Testosterone Levels*Promote Improved Body Composition*Increase Lean Muscle Mass*Ramp Up Strength Gains in the Gym*
HyperTEST Testosterone Complex
There is no other hormone in the body that stimulates muscle growth like testosterone. HyperTEST™ will naturally promote testosterone levels for an effective anabolic response.* HyperTEST™ is a comprehensive testosterone boosting complex. Prepare yourself for the ultimate new you; more lean mass and impressive strength gains.* The scientifically engineered formula in HyperTEST™ utilizes a three tier system to maximize your results.
First the HyperLH™ Complex uses a full gram of pure Bulgarian Tribulus Terrestris to optimize your body's own production of testosterone.* Second, the HyperFT™ Complex allows your body to free testosterone from binding proteins, enabling the anabolic hormones to stimulate muscle growth.* Third, HyperTEST™ has a unique Hyper Adaptogenic Complex™ that will help your body cope with stress and help promote muscle gains after strenuous exercise.*
The synergistic combination of these three complexes will turbo charge your testosterone production.*
When Testosterone Isn't Enough
MYODEX is a one of a kind, Advanced Testosterone Modulator. "Oh, sure", you may be thinking, "This is just another testosterone booster." Nothing could be further from the truth. You see, "typical" testosterone boosters are designed to do just that – support testosterone levels. However, as we have revealed, boosting testosterone alone is not enough.
What makes MYODEX so unique is how it goes about supporting optimal testosterone flow and bioavailability.* MYODEX is scientifically formulated to help boost testosterone by simultaneously helping reduce its conversion into DHT and Estrogen!* By helping to counter 5a reductase and Aromatase, MYODEX directly addresses and resolves the limiting factors that reduce full testosterone functionality.*
Let's make this really simple. MYODEX is formulated to "hold back" the limiting factors, DHT and Estrogen, to promote production of Testosterone.* By harnessing this dual-force approach, MYODEX has unleashed the potential of your body to support Testosterone levels.* The power of MYODEX is locked in the fully efficacious, advanced ProtectErone™ Proprietary Blend. ProtectErone™ houses the Estrogen reducing Complex and the DHT Inhibiting Complex.*
Testosterone Supporting Multivitamin*
Beyond the Basics
ENDO SHIELD is a precision-engineered formula that addresses what active men want most - peak health and optimal testosterone support.* This is a dynamic 2-in-1 solution that resolves the inconvenience of downing fist-full quantities of pills from multiple products.
First, ENDO SHIELD works as a complete, fully functional multivitamin/mineral supplement that delivers key nutrients in efficacious doses. Second, the groundbreaking EndoDrive Support blend offers a synergistic blend of compounds that naturally support testosterone.*
A Fully Functional, Efficacious Dose
ENDO SHIELD is a comprehensive, complete stand-alone multivitamin/mineral supplement designed to support the nutritional goals of male fitness enthusiasts.* In fact, you can toss out your current multivitamin product and upgrade to ENDO SHIELD. Out with the old and in with the new (new and more effective, that is).
ENDO SHIELD offers a full array of vitamins and minerals in efficacious doses that help to offset nutritional deficiencies and support optimal health.* Each 3-tablet serving provides peak levels of Vitamins A, C & E, a strong B-complex and a complete spectrum of key minerals and electrolytes.
Although the ENDO SHIELD formula is powerful as a foundational multivitamin/mineral supplement, it "up's the ante" by delivering what the category competition has failed to address...testosterone support!* Thus the incorporation of the unique EndoDrive Support blend in ENDO SHIELD.
 

THE ULTIMATE TESTOSTERONE STACK:

STAGE 2

 
SUGGESTED PRODUCT TIMING
OPTIONAL
PRODUCT
MORNING/BREAKFAST
DINNER
PM/BEFORE BED
TRAINING DAYS
MYODEX
1 capsules in the morning with or without a meal
 
1 capsule before bed
 
ENDOSHIELD
3 tablets with breakfast
3 tablets with dinner
 
 
HYPERTEST
 
 
4 capsules prior to bed
use an additional 2 capsules 1 hour before training