Quick Links to Best Prices Price History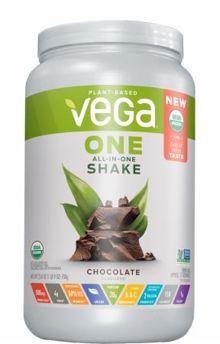 Vega One has everything you need, all-in-one:
Made from real, whole food, non-GMO ingredients, Vega One is like a serving of "I've totally got this" in a glass. With everything you need, Vega One gives you:
PROTEIN
20g
Multisource complete protein blend that helps build and repair strong muscles after exercise.* Same amount as 3.6 medium eggs.
GREENS
6
SERVINGS
Made from 3 cups of broccoli, kale, spirulina and chlorella.
VITAMINS & MINERALS
50%
DAILY INTAKE
Of several food-based vitamins and minerals from fruits and vegetables.
FIBER
25%
DAILY INTAKE
6 grams of soluble and insoluble fiber. Same amount as 3.2 slices of whole wheat bread.
OMEGA-3
1.5g
Essential fatty acids from flaxseed and hemp. Same amount as 2.3 servings of salmon.
ANTIOXIDANTS*
1000
ORAC
Help protect against damage from free radicals.* Same amount as 3.3 cups of blueberries.
PROBIOTICS
1
BILLION
Help support healthy intestinal flora.* Same amount as 1 cup of yogurt.
CALORIES
160
(Flavor Dependent)No sugar added and low-glycemic with a glycemic index of 15.8.
Do more. Better.
Cover Nutrition On-the-Go
Vega One Meal Bar
Don't kick yourself for missing breakfast. Indulge and relax knowing you've covered your nutritional bases with the chocolate-dipped goodness of Vega One Meal Bar.
BUY NOW