Quick Links to Best Prices Price History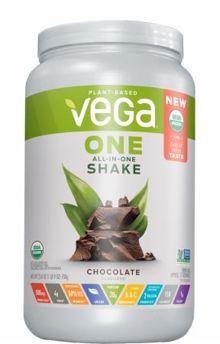 WE PUT THE BEST IN
SO YOU GET THE BEST OUT.
Made from real, whole food, non-GMO ingredients,
Vega One is like a serving of "I've totally got this" in a glass.
Protein
20 gGreens
6SERVINGSVitamins & Minerals
50%DAILY INTAKEFiber
25%
DAILY INTAKEOmega-3
1.5 gAntioxidants
1000ORACProbiotics
1BILLIONCalories
160
Everything you need:
20 g premium plant-based protein
6 servings of greens
50% DV of food-based vitamins and minerals
25% DV fiber
1.5 g Omega-3s
Antioxidants
Probiotics (1 billion CFU)
Only 160 calories. (French Vanilla)
Nothing you don't:
Made without soy, dairy, gluten, artificial colors, flavors, and sweeteners
USAGE
Shake Vega One with water, or add to your favorite smoothie recipe.
Vega OneSmoothie
1 cup unsweetened almond milk
1 serving Vega One, Chocolate flavor
½ cup ice
4-5 fresh mint leaves (or 2 drops
peppermint extract)
Add all ingredients to blender and blend
until smooth. Enjoy!