Quick Links to Best Prices Price History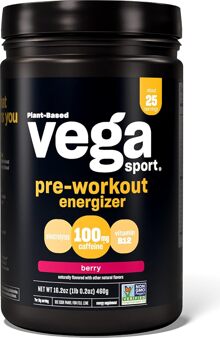 Vega Sport Pre-Workout Energizer
Pre-Workout Energizer
Get in the zone with energy to burn
12 functional ingredients help increase endurance, aerobic and anaerobic capacity, and enhance mental focus before long and high-intensity workouts.*
Green tea and yerba mate
Source of antioxidants and caffeine to support endurance and mental focus—without the jitters1—during exercise.*
Organic coconut palm nectar
Functional sugar and low-glycemic carb for a sustained boost with a slow energy release throughout your workout.
Sprouted whole grain brown rice syrup
High-glycemic carb for immediate energy release. Combines with coconut palm nectar to provide energy that will not spike.*
Panax ginseng and rhodiola
Traditionally used in herbal medicine to help enhance physical capacity, and reduce training-related fatigue.*
Take your workout to the next level
Time Is Everything
(In Fueling and Life)
When it comes to fueling physical activity, It's not just what you eat, but when.
FootNotes
1. Bryan J. (2008). Psychological effects of dietary components of tea: caffeine and L-theanine. Nutrition Reviews. 66(2):82–90
2. Jowko E, et al. (2011). Green tea extract supplementation in healthy men. Nutrition Research. 31(11) 813-821. Davis JK, Green JM. (2009). Caffeine and anaerobic performance: ergogenic value and mechanisms of action. Sports Medicine. 39(10) 813
Health Canada. (2009). Natural Health Products Database Monograph: Panax Ginseng. (2014). Natural Health Products Database Monograph: Rhodiola.