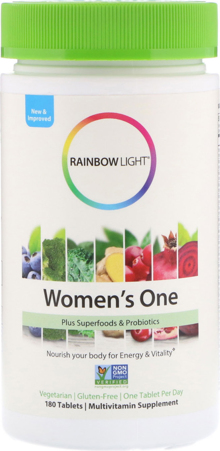 Rainbow Light Women's One Plus Superfoods & Probiotics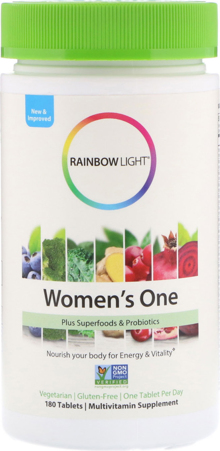 Rainbow Light Women's One Plus Superfoods & Probiotics
Plus Superfoods & Probiotics
Nourish Your Body for Energy and Vitality
Non-GMO Project Verified
Vegetarian - Gluten-Free - One Tablet Per Day
Multivitamin Supplement
Be Healthy and Vital!
Nourish your body with our comprehensive multivitamin that delivers scientifically studied ingredients, our rainbow blend of superfoods, plus a unique Women's Vitality Blend to fuel your vitality at the cellular level.
What a difference 1 tablet per day makes:
Promotes energy and vigor with potent B vitamins.
Supports bone and immune health antioxidant vitamins C & E, plus vitamin D.
Supports nervous system health with B6, B12 & choline.
Easy to digest.
Plus probiotics and plant-source enzymes.