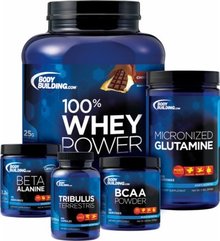 Bodybuilding.com Mass Stack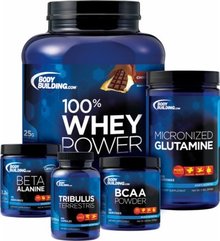 Bodybuilding.com Mass Stack
Includes 100% Whey Power, Micronized Glutamine, BCAA Powder, Beta Alanine, and Tribulus Terrestris
100% Whey Power
Low-fat, low-cal and low-carb, 100% Whey Power is the perfect fuel for your health, fitness, and appearance goals.*
Best in its class, Whey Power is the whey of the future.
It's packed with 25 grams of pure transformation-making protein, an incredible amino acid profile for muscle recovery and repair, sensational flavor, and a scant amount of sugar.*
Micronized Glutamine
L-Glutamine is the most abundant amino acid in your body. It accounts for more than 60% of the free amino acids in skeletal muscle and more than 20% of total circulating aminos. This means that glutamine is especially concentrated in muscle. During intense training, your body can even lose up to 50% of its glutamine pool to stress and fatigue! Supplementing with Micronized Glutamine can help promote recovery and support your results.*
BCAA Powder
The brached-chain amino acids (BCAAs) are of particular interest to those looking to build muscle, reduce breakdown, and promote recovery.* The BCAAs are L-Leucine, L-Isoleucine and L-Valine, and they're three of the most important essential aminos for muscle repair and growth.* BCAA Powder contains these aminos in a precise 2:1:1 ratio for the best possible results.
Beta Alanine
Beta-alanine is a non-essential amino acid used by muscle cells to make Carnosine, which acts as an acid buffer during exercise and helps promote intramuscular pH balance. Why is this important?
Basically, acid build-up during exercise is bad. Beta-alanine supplementation can reduce this build-up, which is good! More specifically, studies suggest that beta-alanine supplementation can help decrease fatigue and increase total muscular work.*
Tribulus Terrestris
Tribulus Terrestris is a vine plant with a long history of widespread use. Historically, Tribulus has been used in ancient Greece, India and Africa to support overall well-being.*
More recently, people around the world have started taking Tribulus to support testosterone release, encourage muscle development, and support healthy libido function.*
Tribulus offers natural, herbal testosterone support.* It contains no chemicals or synthetic additives. Tribulus Terrestris contains a minimum of 45% saponins for superior results.*