Warning: This product is not currently available at any store.
Click the button above and PricePlow will email you when the first store has it in stock!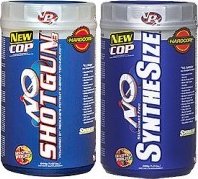 VPX Ultimate Muscle Building Stack
If you're truly hardcore and serious about adding slabs of thick, dense, striated muscle, you've probably tried every supplement imaginable. If you're also like most, you've been burned when it came to the current crop of Nitric Oxide products on the market. Either they were proven scams in university studies like A-AKG-NO2 or they didn't even include the ingredients that were listed on the label - evidenced recently by two of the leading brands in our industry getting busted with bogus ingredients! If you're searching for skin -tearing pumps and mind blowing workouts, it's time to step your game up with the NO Shotgun/ NO Synthesize stack. This stack contains super potent ingredients that other companies couldn't use because of their lack of scientific sophistication. NO Shotgun and NO Synthesize are the absolute best pre-and-post workout supplements to ever be invented in VPX's state of the art laboratories. Here are just a few revolutionary anabolic-boosting and cell-swelling ingredients that you'll find in the next evolution of pre-and-post workout products - NO Shotgun and NO Synthesize:

COP - Creatinol-O-Phosphate has been shown to have a positive effect on anaerobic glycolysis. By increasing anaerobic glycolysis during your workout, you'll have the nuts to crank-out more sets and force out more muscle-blasting reps, bringing you closer to that freaky muscularity you're after! Further COP is highly resistant to conversion to creatinine and is far more effective than creatine alkalyn in this regard. NO Shotgun and NO Synthesize is the only pre-and-post work-out stack that contains Creatinol-O-Phosphate. NO Shotgun and NO Synthesize have the anabolic agents to both crank up intensity and send your muscles through hell and back to become bigger, faster and stronger!

Di Sodium Creatine PhosphateTetrahydrate - is the other kick ass creatine compound stacked with COP and is another muscle maximizing compound of this potent "Double Barrell Stack"! If you are serious about muscle-growth, you need to make sure you "bring it" every time you hit the gym. Every ball-busting rep of every set has to equal muscle growth and the only way to make sure you're always kicking gluteus in the gym is to rely on the full spectrum of anabolic ingredients in NO Shotgun and NO Synthesize. The ingredients found in NO Shotgun and NO Synthesize will help make sure you're crushing the weights during every session! And growing before, during and after your workouts!

BPOV - Bis Picolinato Oxo Vanadium is an extremely potent insulin-mimicking agent. Every bodybuilder knows that insulin is the most anabolic muscle-building hormone and for any product to even be considered a hardcore muscle-builder it has to include ingredients that increase insulin sensitivity. By forcing glycogen and other nutrients into your muscles, insulin makes sure that you remain in an anabolic state. NO Shotgun and NO Synthesize were developed to promote massive increases in insulin without the use of fat-inducing, high glycemic carbs! Look at the labels of the competition and compare. If they're loaded with sugar - they're crap! Sugar's for candy, not for hardcore muscle-mass!

Beta-Alanine - Ethyl Ester HCI is a hyper-performance ingredient that delays muscular fatigue, making sure you to squeeze in every single rep of every mass-infusing set ensuring that the very last fibers found deep within your muscles have been attacked in your workout and are primed for maximum growth. Add-in its ability to radically increase whole-body creatine retention and there is no wonder why this ingredient is found in this ultimate muscle-building, pre-and-post work-out Nitric Oxide stack!

PeptoPro - Casein Protein Hydrolysates are absorbed rapidly into the body - quickly beginning the growth cycle post workout. After pounding your muscles set-after-set, it's the post-workout recovery that is going to give you the insane muscle-growth you're after. PeptoPro helps stimulate the insulin receptors forcing glycogen and the nutrients needed into the muscle for repair and growth. NO Shotgun and NO Synthesize have been specifically engineered to maximize insulin sensitivity - harnessing the power of this anabolic hormone, all without the need of high glycemic carbs!

GBB - Gamma-Butyrobetaine is absorbed well within the body while being transformed into L-carnitine. This is extremely valuable to the bodybuilder that is looking to keep within that anabolic, muscle-building zone because L-carnitine has been shown to elevate androgen receptor levels. Not only is this nitric-oxide stack going to help you get insane skin stretching pumps in the gym, it'll help make sure you stay anabolic both before and after your workout.

While these ingredients are only a fraction of the best vascular-inducing, muscle-building ingredients found in NO Shotgun and NO Synthesize, once you experience the insane episodes of physical intensity, sets that seem like they can go on forever, and muscular pumps that are so powerful you'll think your skin was ready to peel away, you're going to wonder how you ever trained without this stack before. For more information on these and other amazing VPX products, visit www.vpxsports.com or visit your local supplement shop and demand the VPX NO Shotgun, NO Synthesize stack!

Supplement Facts:

To view label for NO-SyntheSize click here

To view label for NO Shotgun V.3 click here

Disclaimer: Manufacturers continually change product specifications. While we try our best to keep product descriptions up to date, they do not necessarily reflect the latest information available from the manufacturer. We are not responsible for incorrect or outdated product descriptions and/or images.

These statements have not been evaluated by the Food and Drug Administration. This product is not intended to diagnose, treat, cure, or prevent any disease.