Warning: This product is not currently available at any store.
Click the button above and PricePlow will email you when the first store has it in stock!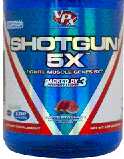 VPX Shotgun/SyntheSize Pre/Post Workout Stack
It's Time to Step Up Your Game
If you're truly hardcore and serious about adding slabs of thick, dense, striated muscle, you've probably tried every supplement imaginable. If you're also like most, you've been burned when it came to the current crop of Nitric Oxide products on the market. Either they were proven scams in university studies like A-AKG-NO2 or they didn't even include the ingredients that were listed on the label –evidenced recently by two of the leading brands in our industry getting busted with bogus ingredients! If you're searching for skin-tearing pumps and mind blowing workouts, it's time to step your game up with the NO Shotgun/ NO SyntheSize stack. This stack contains super potent ingredients that other companies couldn't use because of their lack of scientific sophistication. NO Shotgun and NO SyntheSize are the absolute best pre-and-post workout supplements to ever be invented in VPX's state of the art laboratories. Here are just a few revolutionary anabolic-boosting and cell-swelling ingredients that you'll find in the next evolution of pre-and-post workout products - NO Shotgun and NO SyntheSize:
COP - Creatinol-O-Phosphate
Di Sodium Creatine PhosphateTetrahydrate
BPOV - Bis Picolinato Oxo Vanadium
Beta-Alanine Ethyl Ester HCI
PeptoPro - Casein Protein Hydrolysates
GBB - Gamma-Butyrobetaine
While these ingredients are only a fraction of the best vascular-inducing, muscle-building ingredients found in NO Shotgun and NO SyntheSize, once you experience the insane episodes of physical intensity, sets that seem like they can go on forever, and muscular pumps that are so powerful you'll think your skin was ready to peel away, you're going to wonder how you ever trained without this stack before.*
NO Shotgun MHF-1
VPX Sports supplements NO-Shotgun MHF-1 is the first muscle building supplement of its kind to use a superior synergistic blend of effective compounds combined with a cutting-edge pharmaceutical delivery system that yields mind blowing, skin bursting effects, while additionally enhancing recovery and protein synthesis. Compounds such as Arginine (AEX), Glutamine (GEX), Beta-Alanine (BAEX) and Branch Chain Amino Acids (BCAAEX) that are each combined to insure maximum absorption and uptake! This highly advanced EX technology shuttles these NO-Shotgun compounds across the muscle cell membrane where they can cause explosive muscle growth!*
NO-SyntheSize
VPX has formulated NO-SyntheSize to enhance post workout recovery and muscle building, thereby fully taking advantage of the hyper-critical post-workout anabolic window. SyntheSize was formulated as the "post-workout" synergist to NO-Shotgun. The most notable difference between (pre-workout) Shotgun and SyntheSize is that SyntheSize does not contain "REDLINE Energy Technology." Because SyntheSize contains zero energetic compounds (ie, REDLINE Technology) it can be taken any time of day, even before bed. However, to obtain the greatest possible anabolic gains, VPX highly recommends stacking pre-workout Shotgun with post-workout SyntheSize.*
University Proven Results
Researchers from the Florida State University Institute of Sports Science and Medicine, who were completely unaffiliated with VPX Sports and had no competing interests, recently used NO-Shotgun and NO-SyntheSize to study the effects of supplementation with "multi-ingredient performance supplements" or MIPS. Subjects were divided into two groups. Both groups underwent an identical 6 week resistance training regimen. However, Group 1 was given VPX NO-Shotgun pre-workout and NO-SyntheSize post-workout. Group 2 was given a flavor-matched maltodextrin placebo with the same caloric value. The results were published in the Journal of the International Society of Sports Nutrition.
At the end of the 6 week period, the Shotgun/SyntheSize Group significantly increased peak anaerobic power (PRE, 932.7 ± 172.5 W vs. POST, 1119.2 ± 183.8 W, p = 0.002) while the Placebo Group did not show a significant change (PRE, 974.4 ± 44.1 W vs. POST, 1033.7 ± 48.6 W, p = 0.166). These result caused the researchers to conclude that consumption of MIPS (specifically NO-Shotgun and NO-SyntheSize) "facilitated training-induced improvement" and "improved measures of anaerobic power" in trained males whereas consumption of the placebo did not.
This study directly shows the effectiveness of the Shotgun/SyntheSize Stack in a double-blind, placebo-controlled study without any conflicts of interest by the researchers. We've been confident in our products from the start. Now you have the science to back up what we already knew. So stop making excuses and step up your game with the clinically proven NO-Shotgun No-SyntheSize Pre and Post Workout Stack.
Click here to read a PDF of the entire study!