Warning: This product is not currently available at any store.
Click the button above and PricePlow will email you when the first store has it in stock!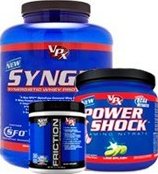 VPX Complete Workout Stack
VPX Syngex 5lbs
Syngex Protein is a synergistic blend of Whey Protein Isolate & Concentrate and can be utilized to supplement any type of low-carbohydrate diet. Protein is unquestionably the single most important nutrient for dramatically redefining and improving your physique. Do what many of the greatest professional athletes, bodybuilders and movie stars have done - make VPX an integral part of your supplementation program today!
VPX Power Shock
Powered by BCAA Nitrates, Beta-Alanine Nitrate & Citrulline Nitrate for Greater Stability & Muscle Transport!*
Moiety Nitrates are Novel Science far Superior to Free Form Aminos & Other Chemical Salts!
Nitrates are Scientifically Proven to Induce Vasodilation via Nitric Oxide (NO)!
NO Increases Blood Flow to Engorge Muscle with Anabolic Nutrient-Dense Blood!
Stamina, Strength and Recovery are Enhanced!*
EAAs (Essential Amino Acids): Key for Protein Synthesis Proven Superior to BCAAs!
Contains Potent Anserine for Muscle Performance and Proton Buffering!
VPX Friction
Do you really trust a company that doesn't put efficacious amounts of Creatine and Beta-Alanine in their product? ...or a company who puts no Creatine at all, denying the research of over 1,300 studies? Do you trust a company that plays games with three scoops when one scoop is the serving size? Then get geranamine-free Friction that contains several new ingredients introduced to the supplement industry for the first time ever and experience the best muscle building workout of your life!*
No Three Scoop Servings Scam! One Scoop Contains:
5 grams of creatine monohydrate – the PROVEN MUSCLE BUILDER backed by over 1,300 university studies!
Full synergistic dose of 3.25 GRAMS OF Beta-alanine!
Increase brain horsepower with coumaoyl dopamine!*
Radical new mind-blowing hyper stimulants!
No pixie dust amounts of ineffective ingredients!