Quick Links to Best Prices Price History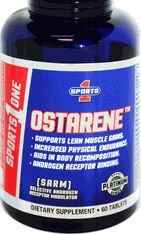 Ostarene by Sports One is now available at i-Supplements.com.

Ostarene is a compound that elicits anabolic like muscle building effects with little or no androgenic side effects. This is an innovative compound that packs on lean body mass. Ostarene enhances your feeling of well-being, improves sleep, increases libido and changes body composition positively. Ostarene is the first product to isolate acridone alkaloids containing propanamides from Glycosmis parva. Ostarene is highly effective and increases strength and improves conditioning during endurance training. Ostarene causes muscle growth by binding and activating the androgen receptor, which alerts the expression of genes and increases protein synthesis.

Ostarene Features

-- Supports Lean Muscle Gains
-- Increased Physical Endurance
-- Aids in Body Recompostion
-- Androgen Receptor Binding

Supplement Facts
Serving Size: 1 Tablet
Servings per Container: 60

Glycosmis parva 100:1 Ethyl Acetate Extract (leaves)[Concentrated for acridone alkaloids, N-[(4-monoterpenyloxy) phenylethyl]-substituted sulfur-containing propanamides and other select Androgen Sterols] 200mg

Proprietary Selective Androgen Receptor Modulator (SARM) & Anabolic Blend with LipoAbsorb Technology 250mg

2,5-diaminopentanoic acid- 2-oxopentanedoicic acid; Dioscorea Nipponica Makino. 50-67:1 Extract equal to 10-13.4 grams of the whole plant (Diosterol Brand) (standardized for bioactive fractions rich in steroidal furostanolic saponins and glycosides: Progenin III, Protodioscin, Iridoid Glycosides, Diosgenin and 5a-Hydroxy Laxogenin; Andrographis Paniculata Extract (Root)(Standardized to 50% Andrographolides and Flavanoids)

* Daily Value not established

Other Ingredients: LipoAbsorb Matrix: Phospholipids from NON-GMO Soy Lecithin: Phosphatidylcholine, Lysophosphatidylcholine, Phosphatidylethanolamine, Phosphatidylinositol, Microcrystalline Cellulose, Carboxymethylstarch Sodium Salt, Colloidal Silica, Magnesium Stearate, Titanium Dioxide, FD&C Red #40, FD&c Blue #1.

Suggested Use: As a dietary supplement, take one tablet two times per day with meals. So not take nore than 3 tablets per day. Do not take for more than 8 consecitive weeks withouf at least 2 weeks off for maximum results.