Quick Links to Best Prices Price History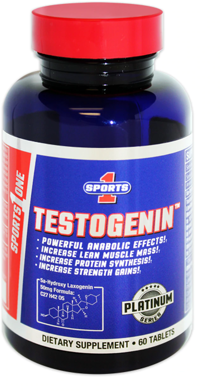 Testogenin by Sports One

Supplement Facts
Serving Size: 1 Tablet
Servings per Container: 60

-- 5a-Hydroxy Laxogenin 50mg

-- Testosterone Boosting & Anabolic Blend with LipoAbsorb Technology 500mg

-- Dioscorea Nipponica Makino. 50-67:1 Extract equal to 10-13.4 grams of the whole plant (Diosterol Brand) (standarded for bioactive fractions rich in steroidal furostanolic saponins and glycosides: Progenin III, Protodioscin, Iridoid Glycosides, Diosgenin; Smilax Sieboldii 50:1 Extract equal to 10 grams of whole plant; Phosphatidic Acid

* Daily Value not established

Other Ingredients: LipoAbsorb Matrix: Phospholipids from NON-GMO Soy Lecithin: Phosphatidylcholine, Lysophosphatidylcholine, Phosphatidylethanolamine, Phosphatidylinositol, Microcrystalline Cellulose, Carboxymethylstarch Sodium Starch, Colloidal Silica Anhydrous, Magnesium Stearate, Titanium Dioxide, FD&C Red #40.

Suggested Use: As a dietary supplement, take one (1) tablet two (2) times per day with meals. Do not take more than 3 tablets per day. Do not take for more than 8 consecutive weeks without taking at least 2 weeks off for maximum results.