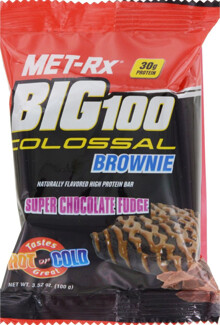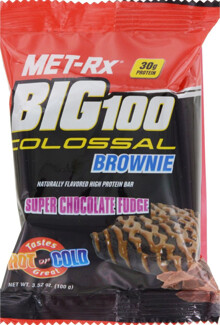 Swipe left/right to reveal product information
Microwaves Hot in Just 8 Seconds!
New from MET-Rx, the BIG 100 Colossal Brownie Bar is guaranteed to satisfy your appetite with 30 grams of Protein. Big100 Colossal Brownie Bars act as a great meal replacement bar or for adding extra fuel to growing muscles. This bar is one taste pleaser! Big 100 Colossal Brownie Bars are the massive new meal replacement bars to take the place of the old Big 100 Bars. These bars are huge and filled with all the goodies, including a whopping 30 grams of protein! Big 100 Colossal Brownie Bars make the other bars look like wimps.
Try a Big 100 Colossal Brownie Bar and you will never go back to those little wimpy bars again.