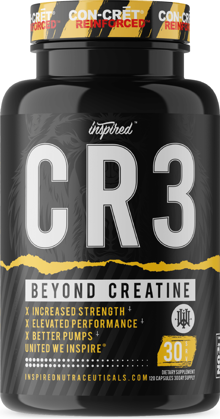 Inspired Nutraceuticals CR3 - Beyond Creatine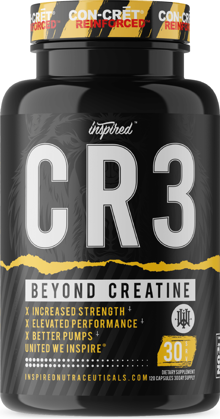 Inspired Nutraceuticals CR3 - Beyond Creatine
Increased Strength* • Enhanced Endurance* • Optimal Recovery*

Our new and improved formula now features NO3-Tcreatine nitrate and CON-CRETcreatine HCL, making it the first in the industry. CR3 is the perfect non-stimulant pre-workout designed to increase workout performance, muscle pumps, and muscle recovery.*
30 Servings
Vegan
No Dyes
No WADA Banned Substances
Ingredients
Ingredients 101
NO3-T creatine nitrate combines the powers of creatine and nitrates to deliver valuable benefits. With NO3-T, the creatine molecule binds to a nitrate group to increase water solubility. This patented ingredient may also improve power output, lifting volume, nitric oxide production, and muscle pumps.

Patented Creatine HCl(as CON-CRET) is a unique form of creatine. Because it is more soluble and concentrated, CON-CRET provides all the benefits of creatine at a significantly lower dose and without unpleasant side effects.*
Senactiv (previously known as ActigGin) is a 100% natural sports nutrition ingredient that has been shown to promote more energy and muscle preservation. It's a proprietary, all-natural, plant-based formulation derived from highly purified Panax Notoginseng and Rose Roxburghii using a pharmaceutical grade extraction and processing technology.
AstraGinis a 100% natural compound composed of highly fractionated Astragalus and Panax Notoginseng. Multiple pre-clinical studies affirm this ingredient's ability to significantly improve the absorption of critical nutrients and amino acids, glucosamine absorption by 41.9%, and ATP production by 18%.
Other ingredients: vegetable cellulose, rice powder, magnesium stearate, silicon dioxide
Usage
Directions for use: Take one serving (4 capsules) 30-45 minutes prior to exercise. On non-training days, one serving may be split: 2 capsules in the morning and 2 capsules 6-8 hours later.