Warning: This product is not currently available at any store.
Click the button above and PricePlow will email you when the first store has it in stock!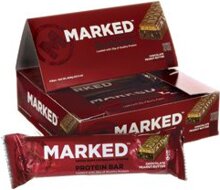 Marked Nutrition Protein Bar
Marked Nutrition supplements are specifically designed to provide the best performance for the human body. All the Marked products are specially formulated, using nothing but the highest grade of ingredients available. The Marked Protein Bar is no exceptions to the high standards set by the famous Mark Wahlberg.
Ingredients
Marked Protein Bar's main ingredient is the specialized protein blend created from Soy Isolate, Whey Isolate, Whey Concentrate, Milk Protein Concentrate, and Wheat Isolate. In addition, there are several supplemental ingredients included in the protein bar, to include, Chicory Root Extract, Beta Carotene, Vitamin A Palmitate, Palm Kernal Oils, and Natural Flavors.
---
Nutritional Facts
The Marked Protein Bar is packed with healthy and beneficial nutrients. Each bar is one serving size and provides 320 calories, with 110 of that from fat. There is around 13 grams of total fat, of which around 8 grams of that is saturated. There are about 34 grams of high energy producing carbohydrates, and whopping 25 grams of high grade, muscle building protein.
Convenience and Taste
The best thing about the Marked Protein Bar is the convenience it has, especially for people that are constantly on the move. The small packaging allows anybody to quick stash a few bars into their purse or backpack. This will allow you to enjoy a healthy snack anytime and anywhere! In addition, having the ability to feed your body with high grade protein will keep your muscles fed throughout the day and mitigate any potential loss of muscle mass.
The Marked Protein Bar also has your taste buds in mind. We all know how difficult it is to snack on some of those other bland or disgusting protein bars, but you do not have to worry about that with this protein bar. The protein bar comes in two excellent flavors: Chocolate Crunch and Chocolate Peanut Butter. Each one is just as delicious as many of those sweet snacks, but with one difference. You are getting a higher quality of nutritious ingredients and energy producing carbohydrates.
---
Health Benefits
The high grade of carbohydrates will help aid the body in producing much needed energy when you need it. This will allow you to plow through your workouts or give you the extra burst of energy during the day, when you having that "drained" feeling. In addition, the high concentration of 25 grams of specialized protein, will aid the body in increasing muscle size and strength. The potential for muscle increase will be more noticeable when combined with a regular exercise and diet program.
Testimonials
Many bodybuilding forum and supplement review sites are giving positive reviews for the Marked Protein Bar. Many users have given high marks for the taste and for limiting the quantity of sugars.
Many of the users often compare the taste to traditional candy bars, noting there was almost no difference in the taste of the chocolate. In addition, there were many references to the adequate amount of fiber, which can be used to slow the onset of hunger and potentially reduce calorie intake.
Just look at Mark himself!  Before getting on the set of Pain & Gain, he had to gain 40lbs of muscle mass!  He did this using Marked Nutrition Mass Gainer, Marked Nutrition Protein Shake, and these Protein Bars right here!
Overall
The Marked Protein Bar is a complete protein bar that is packed with high density and high quality ingredients. You can expect the highest grade of protein blend and the best energy producing carbohydrates available. The Marked Protein Bar may be the perfect solution for you to help achieve your goals of building muscles or losing unwanted weight.
Sources