Warning: This product is not currently available at any store.
Click the button above and PricePlow will email you when the first store has it in stock!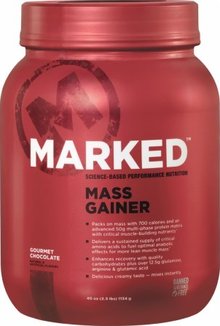 Marked Nutrition Mass Gainer
Pain & Gain star Mark Wahlberg shows that you don't have to have the best genes to be able to gain immense muscle mass. Even he started on the wrong foot, having served prison time.
However, the multi academy award nominated star proves you can jump back and be better, bigger, and stronger than ever. He is known for his versatility in movie roles by changing his physique -- as well as his acting style -- to match the script.
In interviews about his new movie, Pain & Gain, he talks about how his own supplement Mass Gainer helped him prepare for a professional bodybuilder role of 200 pounds after bouncing back from a different movie that had him at his lowest 165 pounds.
MARKED Mass Gainer: Adding 40 Pounds Easily
Wahlberg himself showed how effective his product is. Before filming Pain & Gain, he had to get ready for Broken City. His director back then wanted him to weigh almost 160 pounds, definitely below the ideal body weight of the star. He started at such a low weight that when he prepped for Pain & Gain, he gained an amazing 40 pounds of muscle, just right for his role in the movie.
Combining Meal Plan, Workout and Mass Gainer
Wahlberg commented that he had to eat approximately 10 meals a day and work out during almost all his waking hours. Combined with his protein mix Mass Gainer, the star was able to prepare for his role. Pain & Gain is about a group of Florida bodybuilders that plot a failed extortion and kidnapping plan.
---
Mass Gainer in Depth
Using science based nutrition, each serving of Mass Gainer packs 700 calories and 50 grams of protein. Dubbed as "multi-phase" the protein mix aims to deliver a sustained delivery of amino acids for a longer period of time.
The supplement also contains recovery enhancers that help you get ready for a long workout to maximize proteins and build muscles. As an added bonus, the protein mixes easily and tastes great!
No Banned Substances
MARKED, Wahlberg's company, understands that bodybuilders who want to bulk up may want to prepare for competitions or want clean protein mixes without side effects. The company promises that Mass Gainer has no banned substances - ideal for health enthusiasts, natural bodybuilders and professional bodybuilders.
Multi-Phase Protein Complex
The protein mixes found in this product comes from the following protein sources
Whey Protein Concentrate
Hydrolyzed Whey Protein
Calcium Caseinate
Soy Protein Isolate
Whey Protein Isolate
Milk Protein Concentrate
The protein mix of fast, medium and slow digesting proteins are dissolved and absorbed by the body at different rates which means you get a study supply of amino acids at a longer period of time compared to conventional protein supplements. 700 calories worth of energy also provides enough fuel for you to complete your workout.
Anabolic Blend
Aside from the 50 grams of protein, Mass Gainer also contains approximately 10 grams of branched chain amino acids (BCAA)
Leucine
Isoleucine
Valine
The BCAAs act like bodybuilding hormones that promote anabolism that helps increase muscle mass.
Recovery Blend
What's the use of a protein mix if you can't get up and get going? Mass Gainer contains a recovery enhancing blend for a speedy return to the gym.
Glutamine
Glutamic Acid
Arginine
12.5 grams of powerful recovery enhancers that will help you regain your strength, banish fatigue and last longer in the gym.
With a combination of meal plans, intense workout and Mass Gainer, you'll be able to pack on pounds of pure muscle in no time.
References: