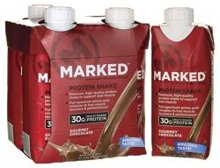 Marked Nutrition Protein Shake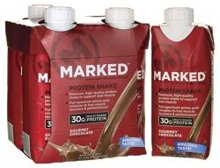 Marked Nutrition Protein Shake
Ever watch a movie and wonder how this guy got ripped so fast? Directors will grow broke if they use CGI to fake muscles on actors, so it's gotta be something else!
The amazing physiques actors have costs dedication and a little bit something extra liked MARKED Protein Shake by Marked Nutrition. Created by Mark Wahlberg one of the most versatile actors that can play roles and change his body mass in a flash.
Wahlberg can go from a role that kept him at 150 pounds and suddenly grow to 210 pounds of lean muscle for his latest movie Pain & Gain.
MARKED Protein Shake
From the latest line of supplements from Mark Wahlberg and GNC, MARKED Protein Shake guarantees you a protein mix with the right amount of calories that you need for your workout.
Proven protein blend that provides the necessary amount of amino acids to create muscle tissues such as Leucine for improved strength.
Easy to digest shake that gives you a high bioavaibility of amino acids that maximizes tissue creation, recovery and performance superior to regular protein whey
Boost positive nitrogen balance with a nitrogen complex in every 23 grams of protein which makes it the ideal pre workout and post workout protein shake.
Sustained Amino Acid Release With MARKED Protein Blend
MARKED Protein Shake is packed into one battle and gives you four servings of an amazing protein blend.
Milk Protein Concentrate
Calcium Caseinate
Whey Protein Concentrate
The protein blend actually gives you a sustained source of amino acids as each protein source is digested and absorbed in different times. A sustained amino acid release is much better than a huge amino acid spike as the body will try to get rid of the excess amino acids. This means you can save more even with only 4 servings in a bottle!
---
Reach your Healthy Weight Goal with CLA
Each serving also contains a healthy amount of Conjugated Linoleic Acid. Studies have shown that CLA can help individuals lose body fat effectively.
Boosted with Betaine
Also known as Trimethyglycine, it's usually found in beets. There are many benefits of Betaine.
Cardiovascular Health
You don't have to worry about your ticker with Betaine in MARKED Protein Shake. It prevents the buildup of homocysteine in the blood, a harmful substance that can damage blood vessels and is implicated in stroke.
Metabolic Health
Betaine increases metabolism which leads to weight loss. It is an osmolyte and methyl donor which keeps cell hydration and volume and maintains fluid balance. Healthier muscle cells burn more fat efficiently.
Musculo-Protective
Betaine also protects the muscles from degradation. This means that catabolism or cellular breakdown is avoided which gives anabolism or cellular growth a boost.
Branch Chain Amino Acids
MARKED Protein Shake also contains branched chain amino acids such as L-Isoleucine, L-Leucine and L-Valine, also known as the BCAAs. They're proteinogenic amino acids used for building muscle tissue. However, they also have hormone like functions such as anabolism, neuro protection and more.
24 Vitamins and Minerals
Get a lot more benefits as each serving of the Protein Shake contain more 24 vitamins and minerals that can help you recover from fatigue, boost anabolism, protect muscular tissue and reduce catabolism or cellular breakdown.
---
MARKED Protein Shake as a Power Fuel
You'll notice in every sip you get a creamy delicious taste. Savor it as each serving gives you 240 calories worth of energy for your workout.
Easily incorporate each serving into your meal plan while enjoying the many benefits of vitamins, minerals, protein blends and other substances like CLA.
Find MARKED Protein Shake in leading supplement stores. If you're just health enthusiasts, one serving a day will be enough. If you're the serious bodybuilder, one bottle a day for a 4 hour workout will do wonders. 
References:
Tipton KD, Elliott TA, Ferrando AA, Aarsland AA, Wolfe RR., "Stimulation of muscle anabolism by resistance exercise and ingestion of leucine plus protein."

Craig SA., "Betaine in human nutrition."

Whigham LD, Watras AC, Schoeller DA., "Efficacy of conjugated linoleic acid for reducing fat mass: a meta-analysis in humans."

Blomstrand E, Eliasson J, Karlsson HK, Köhnke R., "Branched-chain amino acids activate key enzymes in protein synthesis after physical exercise."

Jackman SR, Witard OC, Jeukendrup AE, Tipton KD. "Branched-chain amino acid ingestion can ameliorate soreness from eccentric exercise."