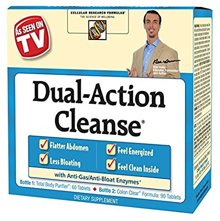 Applied Nutrition And Science Dual-Action Cleanse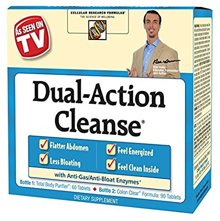 Applied Nutrition And Science Dual-Action Cleanse
Applied Nutrition Dual-Action Cleanse with Green Tea BONUS Description
Join the millions who have discovered the amazing benefits of Total-Body Natural Cleansing!
Regularity & Elimination • Flatter Abdomen • Less Bloating • Feel Energized
Feel Light and Clean Inside
As Seen On TV
2-Part Program for Total-Body Cleansing & Detoxification with Anti-Gas/Anti-Bloat Enzymes
1 Bottle Total Body Purifier and 1 Bottle Colon Clear Formula
BONUS: Green Tea Fat Burner
Detoxify & Cleanse
Millions of people have already benefited from a powerful message seen on TV across the country. The message is simple; you can have a flatter abdomen, less bloating, feel energized and feel clean and light inside. Dual-Action Cleanse is a two-part program combining more than 50 botanical ingredients. It leaves you feeling internally clean and energized.
Why do I need to cleanse internally?
Problem One
Our bodies have multiple routes of detoxification. Poor diets and environmental pollutants can overwhelm these systems.
Solution One: TOTAL BODY PURIFIER
Total Body Purifier helps support your body's overall wellness. It contains ingredients like Alfalfa & Dandelion which help support the digestive tract. The Enzyme Blend promotes less bloating and gas.
Problem Two
Our modern diet of processed low fiber, chemical filled food actually slows the digestive system and "clogs us up" inside. It can even make our abdomen look bloated and distended, since many of us carry around unneeded compacted matter in our colon.
Solution Two: COLON CLEAR FORMULA
Formulated with a combination of gentle herbs to unclog and cleanse your digestive system using your body's own powers of peristaltic movement. This will promote elimination and healthy digestion.
Directions


Total Body Purifier: (Adult) Take one (1) tablet with breakfast and a full glass of water and one (1) with dinner and a full glass of water.

Colon Clear Formula: (Adult) Everyone's digestive system is different, so people respond differently to the Colon Clear Formula. Start by taking one (1) tablet in the morning and one 91) in the evening with food and a full glass of water. If you do not achieve two daily bowel movements within two days, take two (2) tablets in the morning and tow (2) in the evening. If you still do not achieve two bowel  movements per day, then move up to three (3) tablets in the morning and three (3) in the evening. Do not exceed a total of six (6) tablets a day. Do not take product for more than 30 days at a time, without a break of 30 days or more.

Green Tea Fat Burner: (Adult) As an addition to your reduced calorie diet and exercise, take two (2) Liquid Soft-Gels in the morning and one (1) or two (2) Liquid Soft-Gels in the afternoon with meals with a full glass of water. If caffeine keeps you up at night do not take this product in the evening since it contains caffeine.
Disclaimer These statements have not been evaluated by the FDA. These products are not intended to diagnose, treat, cure, or prevent any disease.
Supplement Facts