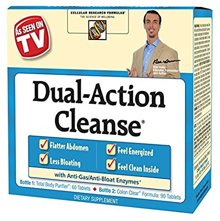 Applied Nutrition And Science Dual-Action Cleanse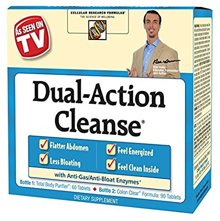 Applied Nutrition And Science Dual-Action Cleanse
Applied Nutrition Dual Action Cleanse Kit - 2 Bottles
Applied Nutrition Dual Action Cleanse Kit is a 2-part program for total body cleansing and detoxification with anti-gas/anti-bloat enzymes. It offers regularity and elimination, a flatter abdomen, less bloating and an energized feeling. Dual Action Cleanse Kit contains a total body purifier and a colon clear formula. Nature designed our body thousands of years ago to work properly only if we consume a majority of fresh and raw foods. That's hard to do nowadays. So this special program was created for both total body cleansing and colon cleansing.
Applied Nutrition Dual Cleanse Kit:
Flatter Abdomen
Less Bloating
Feel Energized
Feel Clean Inside
With Anti-Gas/Anti-Bloat Enzymes
Kit Contains:
Total Body Purifier - 60 Tablets
Contains 33 powerful cleansing herbs that target 15 specific body parts. Among these powerful herbs are Milk Thistle to support the liver, Red Clover and Beet Root to purify your blood, Hawthorne Berry to enhance blood flow, Licorice to support digestion of other herbs, along with 24 other nutrients to stimulate cleansing. Total Body Purifier may be taken on a regular basis.
Each tablet contains a proprietary blend including:

Alfalfa - Used to increase peristalsis of the bowels and as a blood purifier.
Beet Root - Circulation enhancer and blood purifier.
Black Cohosh Root - Traditionally used for the central nervous system and as a woman's tonic.
Burdock Root - Blood purifier, breaks down carbohydrates; supports the liver, kidneys and skin.
Cayenne Fruit - Carminative, stimulates digestion, and as a catalyst, carries other herbs quickly to the part of the body where they are needed most.
Chickweed Leaf - Supports the blood, stomach, bowels, and skin; traditionally used for fevers and inflammation.
Club Moss - Traditionally used to enhance digestive function.
Dandelion - Traditionally used to support the liver and kidneys.
Echinacea Angustifolia Leaf Extract - Traditionally used as an anti-bacterial, stimulates the immune system and is reported to support the lymphatic system.
Eleuthero - an adaptogen which balances body functions and supports the body's resistance to stress. Also increases energy and stamina and supports the adrenal glands.
Fennel Seed - Helps expel gas from the bowels; traditionally used as a stomachic.
Fenugreek Seed - A demulcent, used to aid digestion.
Ginger - A carminative, used to aid digestion.
Ginkgo Biloba Extract - A brain and circulatory antioxidant.
Green Tea Extract - Contains polyphenols and flavones that may inhibit the formation of nitrosamines, which are known carcinogens (cancer-causing chemicals).
Hawthorn Berries - Rich in phytochemicals that benefit the heart and circulation; a harmonizing herb.
Horsetail Herb - Supports the kidneys and digestive system.
Irish Moss - A demulcent, soothes kidneys, bladder and lungs.
Licorice Root - Supports the liver, lungs and digestive system, also a harmonizing herb.
Marshmallow Root - Traditionally used to soothe and support the intestines.
Milk Thistle Seed Extract - Supports the liver in the release of toxins.
Mullein Leaf - Traditionally used to support lung function, to loosen mucus and move it out of the body.
Pacific Kelp - Rich source of minerals, especially iodine, which aids in metabolism.
Papaya Leaf - For digestive support.
Peppermint Leaf - Stomachic, antispasmodic; supports digestion.
Plantain Herb - Traditionally used to break up intestinal mucus.
Red Clover Leaf - Traditionally used as a blood purifier and to support healthy skin.
Red Raspberry Leaf - A blood tonic; soothing to the stomach.
Safflower Oil - Shown to have an anti-inflammatory effect.
Scullcap Herb - Antispasmodic; helps to calm the nerves.
Slippery Elm Bark - A demulcent, soothes the digestive tract.
Yarrow Flower - Traditionally used as a tonic, carminative and anti-inflammatory.
Yellow Dock Root - One of the best "blood builders" in the herb kingdom; supports the liver and bile production.

Colon Clear Formula - 90 Tablets
Slow infrequent bowel movements may cause fatigue, bloating and overall sluggish feeling. Colon Clear contains a proprietary blend of 22 fibers and herbs to enhance peristaltic action and support your digestive function (promoting 2-3 bowel movements per day). This natural action tones and cleanses the colon while eliminating unnecessary toxic build-up.
Colon Clear delivers such ingredients as Psyllium, Alfalfa, Pau D'Arco, Oat Bran, and Lactobacillus Acidophilus in a proprietary blend to enhance elimination of built up toxins and waste matter.Colon Clear should be taken every 30-days, followed by a 30-day "break," and is not intended to be taken on a constant basis.
1 tablet (proprietary blend 572mg) contains:

Acacia Gum - Supports proper digestion and elimination of food.
Alfalfa Leaf - An insoluble fiber that bulks the stool and helps promote peristalsis.
Apple Pectin - A soluble fiber that binds with bile acids and promotes their excretion.
Apple Powder - Contains both pectins and lignins. Lignins are thought to act as antioxidants.
Barley Rice Fiber - A soluble fiber in the lignin class.
Beet root - Soluble and insoluble fiber that sweeps and cleanses the eliminatory system.
Fennel Seed - A carminative and stomachic, eases stomach discomfort and dispels gas.
Garlic - Enhances digestive function.
Guar Gum - Soluble fiber shown to be helpful in regulating glucose levels.
Gum Karaya - Supports proper digestion and elimination of food.
Lactobacillus Acidophilus - "Friendly" bacteria, promotes proper intestinal environment.
Lemon Peel - A soluble fiber. Pectins are able to bind with bile and promote its excretion.
Mint Leaf - Traditionally used as a stomachic and antispasmodic; supports digestion.
Oat Bran - Soluble fibers. Water-soluble fiber is able to bind with water and bile, increasing bulk and promoting peristalsis. Soluble fibers have been shown to help balance blood-lipid levels because of their ability to bind with bile and promote its excretion.
Pau D'Arco root - Possesses immune-enhancing properties and may be destructive to certain harmful microorganisms.
Red Raspberry Leaf - A blood tonic.
Shattered Cell Wall Chlorella - Nutrient source, detoxifier of the blood and internal organs.
Slippery Elm Bark - A demulcent, soothes the digestive tract.
Turnip - Enhances circulation and blood purifiers.
How long does Dual-Action Cleanse take to work?
The formula should begin to help increase the frequency of your bowel movements within the first week or so. You will notice your bowel movements becoming more consistent and comfortable.You may also begin to feel trimmer, less bloated and notice more energy within the first week.
Can I take Dual-Action Cleanse if I am taking medications or other supplements?
While our researchers are not aware of any adverse interactions between Dual-Action Cleanse and drugs or other supplements, it is always best to consult with your doctor or health professional regarding such questions. Since the formula affects the digestive system, make sure that you consult with your physician if you are currently taking medications or are being treated for a medical condition, especially any digestive disorders.
Will my bowel movements or stool change in appearance when taking Dual-Action Cleanse?
Yes, this is perfectly normal. Most people observe that their stool may have a different color or change in shape and consistency during the cleanse. If your stool is wellformed and tends to float, then you know that the formula is beginning to work.
Can I take Dual-Action Cleanse while pregnant or nursing?
DO NOT use this product while pregnant or nursing.
Can young children take this product?
Dual-Action Cleanse is not suitable for children under the age of 18.
Will Dual-Action Cleanse have me running to the bathroom all the time?
The gentle cleansing process should not interrupt your daily life. During the first few days taking the formula, you may experience more frequent bowel movements as your body gets rid of built-up waste material. Dual-Action Cleanse can help you feel light, energetic and trim. In contrast to typical laxatives (which cause loose, watery stools as they liquefy the contents of your bowels), Dual-Action Cleanse gently stimulates the digestive process.
Is there anything else I need to know about Dual-Action Cleanse?
The product contains Cascara sagrada which belongs to a family of plants containing compounds that have laxative effects. Because of this, it is important to follow all package instructions and warnings regarding this product. With continual longterm use of more than 30 days at one time, Cascara sagrada may lead to dependence or could interfere with diagnostic imaging procedures of the colon. When used as directed, Dual-Action Cleanse is designed to naturally support the detoxification and elimination pathways of the body.
Welcome to Applied Nutrition

As a leader in the nutritional supplement category for over the past ten years, Applied Nutrition has offered the highest quality products in the weight loss, cleansing, sexual health and targeted nutrition categories. In fact, Applied Nutrition offers some of the most potent Green Tea Weight Loss products available and their Green Tea Fat Burner product has helped millions of people over the years achieve their weight loss goals.
They also invest heavily in research to provide cutting edge formulas and delivery systems. Their formulas feature condition-specific nutrients at efficacious levels backed by scientific research. They are also viewed as a leader in delivery systems. For example, many of their products are available in easy-to-swallow Liquid Soft-Gels. Other products are sold in powder form for people who cannot, or prefer not to, swallow tablets. But they don't stop there.
Applied Nutrition is committed to developing science-based products that exceed the highest standards for quality and purity. As a leader in innovation, they continuously strive to bring forward new ideas and groundbreaking formulas that enhance health and well-being.
Diet & Exercise Plan

The First Step is the Most Important
Congratulations on taking the first step toward a healthier approach to living! The key to long-lasting health and wellness is maintaining a balance of work and play; eat well, enjoy activities and spend time with friends and loved ones. This guide provides you with useful information on what and how to eat, optimizing your exercise program and making time for mental health and relaxation. As you get started, it may be helpful to plan your daily diet and exercise goals until you forge a system that compliments your lifestyle. Once you have the hang of eating right and exercising regularly, maintaining your new routine becomes easy. This Diet and Exercise Plan should be approached as a lifestyle modification rather than a short term change. Ready, Steady, Go!
Enjoy the Food You Eat
hen considering a dietary change, the idea isn't to deprive yourself, but rather learn how to make wise food choices. Once you understand the importance of particular foods and how to incorporate them into your daily life, making healthy food choices becomes easy. In essence, variety is the right idea! Try new foods and explore adding various spices to your diet, such as garlic and cinnamon. Try to keep your plate colorful and experiment with different food textures. Remember healthy food choices is not about sacrifice, its about identifying what is the best diet option and changing the way you think and feel about food. For a balanced diet its important to incorporate a variety of different foods. Understanding when and what to eat and what would make the most sense in your life is what will facilitate overall success.
What Should You Eat?
Eating is essential and making wise food choices will give your health and your waistline the support it really needs. Whole food is a term used a lot but may not be completely understood. The term refers literally to food in its whole form, with minimal processing to keep it as close to its original form as possible. For example; visualize a whole apple and compare it to a glass of apple juice. The juice on its own does not contain all of the skin, seeds or fleshy center. The whole apple offers all the goodness of the entire fruit and so offers greater health properties. This example applies to most all foods, so choosing whole foods over processed means you get the richest supply of nutrients possible.
Color is important. Antioxidants called polyphenols are responsible for the brightly colored pigments (vibrant reds, greens, blues and purples) of many fruits and vegetables. By keeping your food choices colorful, not only do you get a gorgeous looking meal, but you'll also benefit from the positive health impact those colorful foods provide.
The morning meal should be comprised mostly of protein. People mistakenly presume that a carbohydrate breakfast is the best choice. This is partially correct in that carbohydrates such as whole grain cereals are high in fiber which promotes digestive health. However, after fasting for 12 hours overnight, eating carbohydrates only for breakfast results in a glucose surge or sugar spike, followed shortly after by a sugar slump, characterized by low energy and the return of hunger. Energy produced from proteins and fats are delivered in a more sustaining form to avoid drastic spikes and falls in blood sugar. Look to include proteins for breakfast such as yoghurt, turkey sausage and bacon, lean steak, eggs or a protein shake.
When Should You Eat?
Always eat breakfast! Breakfast is the most important meal of the day, after fasting for 8 hours through the night; the body relies on sustenance in the morning for physical and mental energy and focus. Ideally you should eat within an hour of waking to stimulate metabolism and get you going for the day. By not giving your body fuel at regular intervals, every 3-6(max) hours, the body goes into what we call 'starvation mode'. Starvation mode involves the body hording calories from food into fat cells instead of burning it. In this way, it can be used for fuel when the body goes longer than needed without sustenance. This is why when trying to maintain a healthy weight its best to eat small meals every 3 hours (4-5 times per day) to encourage optimal break down of food and stimulate metabolism.
Eating snacks in between meals helps to maintain balanced blood sugar levels and restricts overeating. See the list of healthy snack options below for ideas.
The occasional carbohydrate heavy meal such as pasta, rice, breads and potatoes, should only be eaten in the middle of the day, versus in the morning. Try to balance the impact of carbohydrates on blood sugar by adding protein.
Keep your evening meal light and try to eat before 7pm. Your body uses night time sleeping hours to cleanse, restore and rejuvenate the digestive and eliminatory systems. For your metabolism to function at its most efficient, it depends on this nightly restorative process to keep your body operating at optimum levels.
A Suggested Menu Plan for a Day
Eat small meals throughout the day to optimize digestive metabolism. This puts less of a burden on your digestive system and allows your metabolism to function more efficiently. Drink a glass of water before meals to decrease the chances of overeating. Keep a supply of low fat healthy snacks around to lessen the chance of falling into bad habits and overeating. Here are some healthy snack suggestions:
Vegetable sticks with almond butter, hummus, cottage cheese or low-fat ranch dressing
Rice cakes with avocado or tomatoes
Raw or roasted unsalted nuts such as walnuts, almonds and brazil nuts
No added sugar yogurt with fresh fruit
Low fat cheese with crackers
Vegetable juice
Edamame
Low sodium soup
Trail mix
Breakfast: Bowl of oatmeal, low fat plain yoghurt, 1 cup of berries, 1 cup of low fat milk. 2 slices of turkey bacon, glass of water and cup of green tea.
Morning Snack: Half cup of toasted unsalted mixed nuts and a banana. Glass of water. Fruit is the perfect snack! Fruit is full of necessary fiber, energy and nutrients. Try eating a variety of fruits like apples, papayas, plums, melons, grapes, strawberries, pears, peaches, oranges and grapefruit.
Lunch: Cup of cooked brown rice with baked chicken breast, ¼ cup steamed broccoli and ¼ cup of carrots. Glass of water with lemon. Vegetables provide important vitamins, minerals and fiber so eat in abundance. Other vegetables to include might be spinach, carrots, celery, asparagus and broccoli, avocado, kale and beets. Carbohydrates come in many forms. They help you feel full and provide you with the energy to keep going. Healthy carbohydrate choices include: oatmeal, bran muffins, rice, whole grain bread, quinoa and whole wheat pasta and cous cous.
Afternoon Snack: Glass of water, apple and 1 oz. low fat cheese. Dairy foods help provide necessary calcium and other nutrients, other examples include: goat products, yogurt, milk and cottage cheese. Optimally choose organic products when possible.
Dinner: Glass of water. 3 oz. of Fish (baked with garlic, lemon and ginger and tbsp of olive oil) with salad. Protein helps you maintain good muscle tone and supports a lean physique. Other examples are: lean steak, skinless chicken, fish, beans, eggs, tofu and tempeh. When possible it is ideal to choose organic free range meats and eggs and choose wild caught fish. Tip for cooking protein: baking, steaming or lightly stir frying keeps protein lean and helps to maintain nutrients.
Foods to Avoid (keep to a minimum):
Fried Foods
Refined sugars
Carbonated Drinks
Sodium rich foods
Highly-processed foods/fast food
REMEMBER: Don't get discouraged if you eat a food that isn't the best for you, just remember tomorrow is a new day and a great opportunity to get back on track.
Ten Helpful Hints for Dieting Success:
Drink eight or more glasses of water a day. Drink at least one glass before every meal. Water helps your body operate at its highest calorie-burning mode and also helps control the appetite.
Try new foods whenever possible, it allows opportunity to bring variety to your healthy diet.
Avoid going to a party on an empty stomach. Eat a small salad and drink a glass of water or before you go.
As soon as you are done eating, leave the table so you won't pick at your food and eat more.
When you eat out, ask for all sauces and dressings on the side.
Try on new clothes. This is one of the best self-motivating tools you can use to eat right.
Take only half of what your appetite calls for. You'll be surprised that you may not want a second helping.
It takes approximately 20 minutes for your brain to recognize that you're full. Eat slowly and chew each bite, chewing is an integral part of the breaking down and metabolism of foods.
Brush your teeth after eating so you won't eat anymore.
Read ingredient labels when grocery shopping. Isolate key information such as saturated fat content, sodium and sugar. Ideally, saturated fat should be under 4gms per serving, sodium under 500mg per serving and sugar no more than 6gms per serving.
How to Exercise
Make a commitment to invest at least four hours per week to exercise. Aim for 30-60 minute workouts 3 times per week to support a healthy body and mind. As soon as you feel your enthusiasm decreasing, try a different activity. Team up with a friend. Having a buddy who is committed to a fitness strategy will keep you motivated and increase your chances of success. To achieve a toned, hard-body look, try adding at least two hours a week of free -weight or weight-machine training to your aerobic routine. Lean muscle weighs more than fat, so pay less attention to scales. Exercising in the morning will encourage calorie burning and energy all day long and exercising before meals helps reduce your appetite.
Which Exercise is Best?
Cardiovascular exercises such as jogging, rollerblading, bike riding and basketball stimulates your entire body, encouraging circulation, stamina, heart and lung health, lymphatic drainage and more. It can also help to enhance your mood and focus. Weight-training exercise increases lean muscle mass. Muscle tissue burns calories for energy so the greater amount of muscle tissue you have, the more calories you can burn.
Other forms of exercise like yoga, rock climbing and dancing use many muscle groups as well as encourage deep breathing and stamina.
A Suggested Exercise Plan for One Week:
When getting started set your goals at 15-30min each day and build it up to 30-60min over time.
Example Week For A Beginner:
Monday: 30 min brisk walk/jog before breakfast.
Tuesday: Rest
Wednesday: 30 min on elliptical machine followed by squats with free weights
Thursday: Rest
Friday: Rest
Saturday: 1 and half hour yoga class or exercise dvd
Sunday: Rest.

Example Week For Intermediate Fitness Level:
Monday: 45 min roller blading before breakfast
Tuesday: Rest
Wednesday: 30 min brisk walk and 20 squats before dinner
Thursday: Rest
Friday: 1 and half hour bike ride
Saturday: 1 hour dancing
Sunday: Rest

Example Week For Advanced Fitness Level:
Monday: 45 min run before breakfast
Tuesday: 1 and half hour spin class
Wednesday: Rest
Thursday: 30 min elliptical machine, free weights and 30 squats
Friday: 30 min run before dinner
Saturday: 1 hour playing basketball
Sunday: Rest
Some Exercises are Better Than Others
When it comes to dieting, the goal is to burn calories and different exercises do that at different rates. Here are some examples of the energy expended by a 150-pound person in 30 minutes of continuous exercise:
Reduce Your Calories by 3,500 and You Will Lose 1 Pound
That does not mean starve yourself. The goal is to maintain a healthy, balanced diet while reducing total caloric intake. If your trying to lose weight starving yourself is one of the worst things you can do. The key is, as we have said, slow and steady weight loss.
Alcohol May Not Be All Bad
Alcohol contains 7 calories per gram, so it's nearly twice as fattening as carbohydrates or protein.
In addition, alcohol can encourage the munchies. This leads to extra calorie intake which can cause weight gain. That said , a major US survey has found that dieters who give up alcohol lose no more weight than dieters who include moderate amounts of alcohol in their diet.
Calories in Sample Drinks
Weight loss depends on your overall calorie intake. Reduce your calories by 3500 and you will lose 1 pound. So since alcohol is fairly high in calories with little or no nutrition, you will certainly save calories by abstaining.
Top 10 Myths About Weight Loss:

Be autonomously motivated - It's great to be inspired to lose weight for a special occasion, a reunion or a party but studies have shown that the people who are most likely to maintain their weight loss are the ones who aren't motivated by anything outside of themselves. These are people who have simply decided that it's time for them to lose weight and improve their health.
Set realistic goals - Even with the best behavior-modification programs people can typically reduce their weight by 10 to 15 percent . If you try to lose 20 or 30 percent, you're likely to either fail and be discouraged or simply regain the weight. By setting realistic targets you set yourself up for success, once the target has been reached it's easier to define a new one with the confidence that comes from success.
Replace bad habits with good ones - There's nothing wrong with having a snack in the afternoon, in fact it's a great idea, just make sure that the food you chose is a piece of fruit or a low fat yogurt and not a donut.
You will have bad days, they come with the territory - It's important to realize that. Factor disappointment into your overall plan. One day of weakness does not undo one month of hard work.
Think less about losing weight and more about gaining health - You may start out trying to fit into that new dress and wind up saving your life. Obesity is only one symptom of an unhealthy lifestyle. Think healthy, not just skinny. Diet sodas, Wow chips, and artificially sweetened candy bars may help you cut calories, but healthy they're not. Each time you chew on a high- or low-calorie candy bar you miss a chance to swallow some phytochemicals neatly packaged in a wedge of watermelon or a handful of berries. Luckily, the same foods that cut your risk of cancer, heart disease, diabetes, and stroke should help you trim that extra padding. Don't think of them as punishment.
Shrink your servings - People who frequent restaurants are more likely to be overweight. That's not only because of the type of food they eat but also the portion size. Restaurants find it extremely cost effective to serve large portionsthe cost of food is a very small percentage of overhead, people get used to large portions and think that's the norm.
Curb liquid calories - Liquid calories don't trip our satiety mechanisms: you don't feel full after a soda or juice although you may have just downed as many calories as a small meal.
Make movement part of your life - This doesn't necessarily mean five sets of tennis or marathon running. Gardening, raking leaves, mowing the lawn, and washing windows also count. People who boost their lifestyle activity are just as successful at keeping the weight off as people who participate in formal exercise programs. In fact, overweight children lose more weight when told to limit sedentary activities than when told to exercise (or to do both). Getting kids to turn off the TV or spend less time at the computer works better than urging them to increase their aerobic activity.
Exercise for weight maintenance - Surprisingly, exercise doesn't actually make much difference when you're trying to lose weight. Fairly strenuous exercise-30 to 40 minutes three or four times a week-produces only a two to six pound weight loss over six months, that's because exercise just doesn't burn that many calories. However it is a great way to keep weight off and make you healthier, and as we keep saying the secret is to think about gaining health not losing weight.
Be patient - It's not easy to make such a radical change in your lifestyle you're relearning habits that may have taken you a lifetime to learn, so have a little patience with yourself.