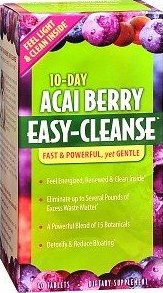 Applied Nutrition And Science 10-Day Acai Berry Easy Cleanse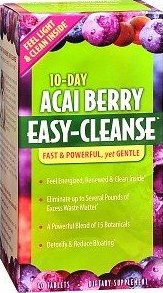 Applied Nutrition And Science 10-Day Acai Berry Easy Cleanse
Applied Nutrition 10-Day Acai Berry Easy Cleanse Description
Fast & Powerful, yet Gentle
Feel Energized, Renewed & Clean Inside
A Powerful Blend of 15 Botanicals
Detoxify & Reduce Bloating
10-Day Acai Berry Easy-Cleanse
Powerful Cleansing Support Blend: Scientifically formulated with Cascara Sagrada, Slippery Elm, Ginger, Licorice, Peppermint and Red Raspberry to support your body's own natural detoxification processes, enhance elimination and improve regularity.
Acid Cleanse Blend: Powerful antioxidants defend your digestive tract from damaging free-radicals. Includes beneficial Blueberry, Pomegranate and Acai - the amazing Amazonian superfruit with one of the highest ORAC (Oxygen Radical Absorption Capacity) values of any known fruit - along with the healthful phyto-nutrients provided by Mangosteen and Lychee, and Cranberry for urinary tract health.
Feel Energized, Light & Clean Inside
Today's modern diets and fast-paced lifestyles can wreak havoc on your digestive system. Too much over-processed, low-fiber foods loaded with chemicals, carcinogens and artificial hormones, hectic days with too much stress and too little rest, can all lead to a tired and sluggish digestive tract.
The result can be a build-up of excess waste and toxins in your colon, leaving you feeing tired and listless, barely able to get through your busy day. The result? You feel lighter, renewed and clean inside.
You're just 10 days from feeling renewed, clean inside and more comfortable!
Powerful botanical blend
Antioxidants to improve digestive health
Enhance elimination and regularity
Feel more energetic
Directions


(Adult) Take two (2) tablets in the morning prior to breakfast and two (2) tablets in the evening, prior to bedtime. Drink at least 8 oz (a full glass) of water with each two tablets. Do not exceed four (4) tablets per day. If stools are loose, reduce tablet intake from four (4) to three (3) per day.
Disclaimer These statements have not been evaluated by the FDA. These products are not intended to diagnose, treat, cure, or prevent any disease.