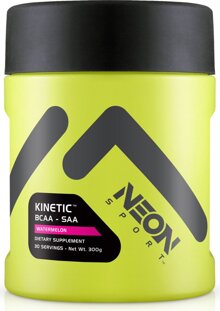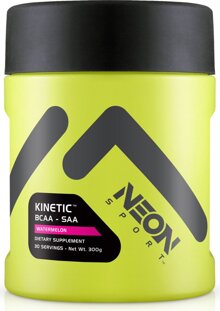 Kinetic energy - it's all about movement.
Not your ordinary BCAA supplement, the Neon Sports supplement line brings you Kinetic, which has turned out to be a more superior product than originally anticipated.

A close look will show that it contains not only silk amino acids (SAAs), but several ingredients that work very well. The additional Kinetic Energy Blend puts the supplement at a whole new category.
Neon Sports Kinetic BCAA – SAA Combo
The main ingredients of Kinetic are the BCAAs and SAAs:
Branched Chain Amino Acids
In each serving of Kinetic you get about 2.5 grams of branched chain amino acids (BCAAs).
Leucine is the best among the three. It stimulates muscle protein synthesis which means it will help you gain muscle easily. In fact, Leucine is the only dietary amino acid that can trigger muscle cell creation.
Isoleucine supports Leucine in muscle creation. Valine on the other hand promotes strength by improving central nervous system health.
The usual ratio is 2:1:1 of leucine:isoleucine:valine, however, Neon Sports Kinetic uses a 3:1:1 ratio - giving you more Leucine than many other BCAA blends!
Silk Amino Acids
Silk amino acids or SAAs come from Sericin, proteins produced by silk worms. Kinetic has the SAA sequenced polypeptide & amino acid matrix.
The SAAs from Sericin contain other amino acids but these are the main amino acids you can get from SAAs.
L-Alanine

Glycine

L-Serine

L-Valine

L-Threonine
These are proteinogenic amino acids that can be converted into muscle proteins. There aren't many studies yet but one study showed that SAA improved physical stamina of test subjects. Combined with BCAAs, the SAAs might be able to give you an edge in building muscles.
---
The Kinetic Energy Blend
To support the muscle creating benefits of Kinetic, an energy blend has been included.
L-Carnitine Tartrate

Coconut Water Extract (not sure what it's extracted for)

Ascorbic Acid (Vitamin C)
Much of the energy promoting blend will rely on L-Carnitine Tartrate. It helps the body in energy production from activated fatty acids. To jumpstart your body, Coconut water is added in the blend as fuel.
To cushion the impact of free radicals, Ascorbic Acid is added. It's one of the most versatile vitamins that also play a role in energy production and protects the mitochondria from damage.
---
Where to Buy Neon Sports Kinetic
You can buy Neon Sports Kinetic at your favorite retail stores. However, if you want to find great discounts or know how Kinetic racks up against other supplements, use the PricePlow widgets. Just do a quick search and you can find cheap Kinetic prices by as much as 50%.
You can also compare the supplement versus other BCAA blends so you will know the pros and cons of the products.
---
What is the Best BCAA Blend?
Honestly, Neon Sports created a product that can't be lumped with most categories of supplement because of the SAAs and energy blend.
However if you look at the BCAA category, Neon Sports Kinetic is incredible because of all of the above features, including its 3:1:1 ratio. It's only beaten by a few supplements, including Leucine-only supplements. Still, a Leucine only product isn't recommended as you might encounter deficiencies unless if you got a stack that replaces the other ingredients of the supplement.
At relatively low prices, Kinetic proves to be an amazing supplement worthy to be part of your stack.
---
Sources Cited:
Jackman SR, Witard OC, Jeukendrup AE, Tipton KD.,

"Branched-chain amino acid ingestion can ameliorate soreness from eccentric exercise."


Gualano AB, Bozza T, Lopes De Campos P, Roschel H, Dos Santos Costa A, Luiz Marquezi M, Benatti F, Herbert Lancha Junior A.,

"Branched-chain amino acids supplementation enhances exercise capacity and lipid oxidation during endurance exercise after muscle glycogen depletion."


Tipton KD, Elliott TA, Ferrando AA, Aarsland AA, Wolfe RR.

"Stimulation of muscle anabolism by resistance exercise and ingestion of leucine plus protein."


Vojtek AB, Hollenberg SM, Cooper JA.

" Mammalian Ras interacts directly with the serine/threonine kinase Raf."


Shin S, Yeon S, Park D, Oh J, Kang H, Kim S, Joo SS, Lim WT, Lee JY, Choi KC, Kim KY, Kim SU, Kim JC, Kim YB.

"Silk amino acids improve physical stamina and male reproductive function of mice."


Kraemer WJ, Volek JS, French DN, Rubin MR, Sharman MJ, Gómez AL, Ratamess NA, Newton RU, Jemiolo B, Craig BW, Häkkinen K.,

"The effects of L-carnitine L-tartrate supplementation on hormonal responses to resistance exercise and recovery."


KC S, Cárcamo JM, Golde DW.,

"Vitamin C enters mitochondria via facilitative glucose transporter 1 (Glut1) and confers mitochondrial protection against oxidative injury."


Chavalittamrong B, Pidatcha P, Thavisri U., "

Electrolytes, sugar, calories, osmolarity and pH of beverages and coconut water."