Quick Links to Best Prices Price History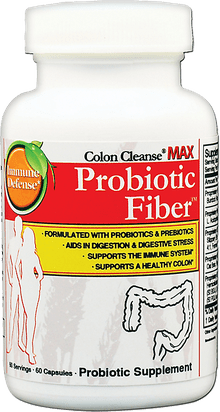 Health Plus Colon Cleanse Max Probiotic Fiber
Product Label
Colon Cleanse MAX PROBIOTIC FIBER.* Probiotic Fiber nourishes your colon with what it craves to stay healthy: prebiotics, probiotics (1 billion colonizing forming units per capsule**), detoxifying herbs, soluble fibers, and digestive enzymes.

Our special proprietary formulation answers to digestive stress, aids in digestion and counters toxins (bad bacteria) spreading inside the colon.* The majority of your immune system is located in your colon and probiotics (good bacteria) assist in combating the growth of bad bacteria that may weaken the immune system.

Prebiotics play an important roll, because they are considered food for the probiotics, allowing more probiotics to spread.

This is also known as the synbiotic effect, where probiotics and prebiotics work together for a better you.

FORMULATEDWITH PROBIOTICS & PREBIOTIC

AIDS IN DIGESTION & DIGESTIVE STRESS

SUPPORTS THE IMMUNE SYSTEM*

SUPPORTS A HEALTHY COLON*

For better results, include COLON CLEANSE MAX: SUPER FIBER BLEND and DIGESTI CLEANSE to your cleansing regimen.