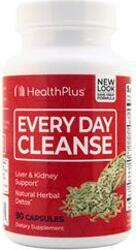 Health Plus Every Day Cleanse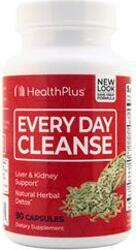 Health Plus Every Day Cleanse
Health Plus - Every Day Cleanse Liver & Kidney Function Support 750 mg. - 90 Capsules
A multi-targeted formula to help provide daily support to the colon, liver and kidneys to cleanse the body of waste and replenish its nutrients.
Health Plus Every Day Cleanse Benefits
Natural Detoxifying Herbs
Supports Liver & Kidney Functions
Gentle Daily Cleanse
What Is Every Day Cleanse?
Every Day Cleanse is been reformulated to provide maximum care to both the Liver and Kidneys in one serving. Every Day Cleanse uses proprietary blends of Vitamins and Herbs that may aid in eliminating waste from the body and offer support to the Liver and Kidneys.
3 Primary Reasons You Need Every Day Cleanse
It helps support the Liver, Kidney and Colon in one serving
It helps maintain regularity with unique fiber blend
Formulated with proprietary blends of vitamins, herbs and fibers to support the liver and kidneys
Did You Know?
The colon, liver and kidneys all play a vital role in the removal of waste, the absorption of nutrients and the re-hydration of the body.
In a single day, kidneys filter about 150 quarts of blood. Only about 1 to 2 quarts becomes urine.
The liver's main job is to filter blood from the digestive tract before passing it to the rest of the body.
The liver is also responsible for an additional 500 vital functions such as detoxifying chemicals, producing bile to help carry away waste and making certain proteins for blood plasma.
What Else Is There To Know About Every Day Cleanse?
After the liver has broken down harmful substances, by-products are excreted into the bile or blood. Bile by-products enter the intestine and leave the body in the form of feces. Blood by-products are filtered out by the kidneys, and leave the body in the form of urine.
A diet filled with junk food and processed food is likely to leave the body struggling with fatigue, constipation and abdomen discomfort.
If the body does not have the specific nutrients it needs, including enough fiber, it cannot function properly on a daily basis.?
Who Should Use Every Day Cleanse?
People concerned with:
Maintaining regularity
Gentle detoxing of liver and kidney
Looking for a multi-functioning pill
Health Plus History
For over 30 years Health Plus Inc. has set out to manufacture quality cleansing products. On their journey to help customers lead healthy life-styles, they have succeeded in becoming one of the founders of the Colon Cleansing market. Their first product, Colon Cleanse, started when their founders Pat and Rita Mediratta saw a need amongst the customers in their health food store, and decided to make a supplement that would help. That was 1981. Since then they have built an array of products from Colon Cleanse to Probiotics and Digestive Enzymes to Antioxidants. Health Plus is dedicated to helping their customers become more educated in understanding cleansing and its many benefits.
Mission
"To provide our customers a continuous supply of the safest, highest quality, innovative botanical products and outstanding services."
Values
Health Plus' values are the foundation of their business. They rely on the following guiding principles to create mutually rewarding partnerships with their customers, employees, and suppliers as they profitably grow their business. Trust, Teamwork, Communication, Mutual Respect, Diversity, Sustainability and Responsibility.
Commitment
Health Plus' commitment is to provide you with the safest, healthiest, innovative products that you can count on every time. They do this by upholding the most comprehensive quality assurance program in the industry that is centered on rigorous procurement standards and testing protocols.